Manchester Attack Update: 5th suspect arrested carrying package, police say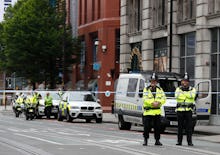 On Wednesday, a fifth suspect was arrested in connection to the deadly Manchester, England, suicide bombing that claimed the lives of 22 people and injured dozens more, British police told the Associated Press. 
Officers told the AP that the man had been arrested in the town of Wigan, and that authorities were in the process of investigating a package the suspect had been carrying.
The news followed the announcement of three additional arrests by the Greater Manchester Police on Wednesday morning. Another man — the brother of alleged bomber Salman Abedi — was arrested on Tuesday, bringing the total number of suspects in custody up to five. 
According to a separate report, Raman Abedi, the father of 22-year-old Salman, told reporters that he believes his son is innocent. 
"We don't believe in killing innocents. This is not us," the older Abedi said. "We aren't the ones who blow up ourselves among innocents. We go to mosques. We recite Quran, but not that."
He added that he had last spoken to his son five days prior to the attack, and that everything had seemed fine during that conversation.
"Last time I spoke to him, he sounded normal," Abedi said. "There was nothing worrying at all until two days ago (when) I heard the news that they suspect he was the bomber."
Pop star Ariana Grande had just concluded a packed concert at the performance venue on Monday night when an explosion rocked the expansive crowd. Video captured at the scene showed fans screaming as they fled in the wake of the blast.
On Tuesday morning, the Islamic State claimed responsibility for the attack via the Telegram messaging app — something the terror group does frequently, regardless of its level of involvement. 
News of the victims began trickling out slowly on Tuesday, with 8-year-old Saffie-Rose Roussos and 18-year-old Georgina Callander named among the first of the fatalities.