Betsy DeVos wouldn't rule out giving federal money to schools that discriminate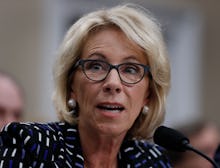 Education Secretary Betsy DeVos on Wednesday refused to say whether the Department of Education would deny federal funding to charter or other private schools that discriminate against students. 
DeVos' comments came at a hearing before the House Appropriations Committee on President Donald Trump's budget proposal, which calls for giving $1 billion in funding to school districts that bolster school choice while at the same time cutting other education spending.
DeVos' refusal to unequivocally say the Department of Education would deny federal funding to private schools that discriminated against students occurred during an exchange with Rep. Katherine Clark (D-Mass.).
"Do you see any circumstance where the federal Department of Education, under your leadership, would say that a school was not qualified?" Clark asked. "What if they said, 'We are not accepting African-American students,' but that was OK with the state?"
DeVos demurred.
"I think the office of civil rights and our Title IX protections are broadly applicable across the board," DeVos said, before launching into a defense of school choice. "But when it comes to parents making choices on behalf of their students..."
DeVos couldn't continue her thought before Clark — who felt DeVos wasn't answering her question — interjected.
"This isn't about parents making choices," Clark said. "This is about use of federal dollars. Is there any situation — would you say to Indiana, 'That school cannot discriminate against LGBT students if you want to receive federal dollars,' or would you say the state has flexibility in this situation?"
DeVos did not address the hypothetical about LGBTQ discrimination, instead saying that states "continue to have flexibility in putting together programs."
Clark continued to press DeVos, but DeVos never forcefully condemned potential discrimination that could occur in private schools that may receive funding under a school choice initiative.
"I am shocked that you cannot come up with one example of discrimination that you would stand up for students," Clark said.