Obsessed with real estate? You can enter this contest to win $1 million from Zillow.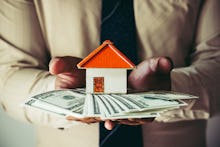 Zillow, a real estate site that many prospective homebuyers use to gauge their home values, is offering a $1 million prize for anyone who can improve the tool the company uses to estimate home prices. Why?
The site currently publishes a "Zestimate" of home prices — using 7.5 million "statistical and machine learning models that examine hundreds of data points on each individual home." But unfortunately it has yielded a 5% "error rate" in pricing homes, the company said in a press release.
In fact, the errors have caused trouble with several real estate professionals, who are now suing the company in a class action lawsuit. They say Zillow uses "nonsense" methods to estimate home prices, and that it shouldn't be making appraisals without a valid appraisal license, as the Chicago Tribune reported.
What exactly is a Zestimate anyway?
According to Zillow's website, a Zestimate is "Zillow's estimated market value, computed using a proprietary formula. It is not an appraisal. It is a starting point in determining a home's value." The Zestimate is based on data that includes recent comparable sales in the area, the home's square footage and the neighborhood.
Millions of consumers visit Zillow every month, according to the company. They use the Zestimate to price-out neighborhoods in which they might consider buying a home. The Zestimate is also the source for cool data sets, like how much money you can save by moving from the city to the suburbs and the five best cities for young people looking to buy a home.
Zillow also creates a Zestimate forecast, which is Zillow's prediction of a home's Zestimate one year from now based on current home and market information. 
Lawsuit claims Zestimate undervalues homes
The problem is that, while Zillow says its Zestimate error rate is low, even a small percentage-point difference can amount to tens or hundreds of thousands of dollars lost to someone trying to sell their home. That's because homebuyers may use the Zestimate to negotiate the sales price.
As an example, the lawsuit says that a property in Schaumburg, Ill. that is listed at almost $1.5 million had a Zestimate of less than $1.1 million. That kind of difference can make it harder for a homeseller to get offers from potential buyers who may think the property is overpriced.
In the past, the Tribune notes, Zillow was accused of overestimating home values, which allegedly helped inflate the housing bubble by encouraging people to take out more equity on their homes than they were actually worth.
Zillow CEO Spencer Rascoff reportedly learned just how off Zestimates can be when he sold his Seattle home in 2016 for $1.05 million or 40% less than the Zestimate from a day after the sale, real estate information site Inman reported.
Can you come up with a better algorithm?
Such inaccuracies would help explain why Zillow wants to improve its algorithm. The winning team in the competition will build an algorithm that can predict final sales prices. Home value predictions from each algorithm submission will be evaluated against real-time home sales in August through October 2018, the company says.
Zillow says it envisions entrants using artificial intelligence and hyperlocal data sets to come up with more accurate predictive tools. 
The deadline to enter the qualifying round is Oct. 16. One hundred entries from that round will be selected to participate in the final round; the winner will be announced in early 2019. 
Zillow representative Amanda Woolley said in an interview that planning for this contest has been in the works for the better part of a year. The contest and lawsuit are not related, Woolley said.
Correction: May 25, 2017
Sign up for The Payoff — your weekly crash course on how to live your best financial life. Additionally, for all your burning money questions, check out Mic's credit, savings, career, investing and health care hubs for more information — that pays off.