Vermont Gov. Phil Scott vetoes marijuana legalization bill, returns it to legislature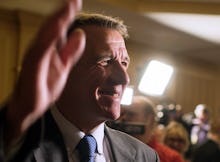 Republican Vermont Gov. Phil Scott vetoed a bill legalizing marijuana for adult recreational use in the state, according to the Hill.
Scott seeks compromise with legislature to pass bill
According to the Hill, Scott told local news outlets that he was "not philosophically opposed to ending the prohibition on marijuana." He indicated that his veto was intended to encourage changes in the bill. 
Matt Simon, a spokesman for the Marijuana Policy Project, said he was disappointed in the veto but hopeful for a compromise, the Hill reported.
We are disappointed by the governor's decision to veto this widely supported legislation, but we are very encouraged by the governor's offer to work with legislators to pass a legalization bill during the summer veto session. Lawmakers have an opportunity to address the governor's concerns and pass a revised bill this summer, and we are excited about its prospects.
ABC News reported that the governor's concerns about the current draft of the bill are focused on public safety, impaired driving and the health of minors.
Vermont has one of the highest marijuana use rates in the country and comes in second in the nation for use between the ages of 12 and 25, according to ABC News reporting on Vermont Department of Health studies.
While recreational marijuana possession remains illegal in Vermont for the time being, medical marijuana has been legal in the state since 2004 and possession of one ounce or less was decriminalized to a civil penalty in 2013.