31 of the biggest differences between the original 'Dirty Dancing' and the ABC remake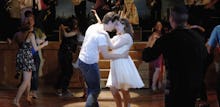 (Editor's Note: This article contains spoilers from the ABC reboot of Dirty Dancing.)
The remake of the 1987 film Dirty Dancing is set to air Wednesday, May 24, at 8 p.m. Eastern on ABC, but there's already been a lot of buzz around the remake's changes to the cult classic. 
One significant change has to do with how the narrative is framed. At the top of the new version, it's 1975, and Baby, played by Abigail Breslin, is in New York City about to see Dirty Dancing, the musical version. Confused, but also somewhat curious? Don't worry — it heads back to familiar territory for most of the three-hour film. However, there are some new additions that deepen the story in several ways. 
Here are 33 of the biggest differences between 1987's Dirty Dancing and this year's made-for-TV version.
1. They were shot in different places
Both the original and the remake were shot in North Carolina, but not at the same lake. Scenes from the original were shot on Lake Lure and at the Mountain Lake Lodge in Pembroke, Virginia, while the 2017 remake used the High Hampton Inn in Cashiers, North Carolina. Much like the films themselves, the settings look similar, but the overall feel is not.
2. Most of the songs are sung by the cast
This change is probably because of how good live musicals have been for network ratings. It works for the most part, and adds an extra layer of gusto to the production. 
 3. Relationships are more clearly established between father and daughter and husband and wife
In the new version, Baby and Jake Houseman, played by Bruce Greenwood, seem to have more of a bond highlighted by a drive to be book-smart doctors with a passion for golfing. In terms of Jake's relationship with his wife, Marjorie, however, there's an obvious rift between them that is explored significantly in new scenes. 
4. There are only a couple of missing scenes
In terms of honoring the original, this remake did a pretty bang-up job. It managed to include almost every memorable scene from the 1987 version. Only two really stood out as being absent — the scene in the ballroom toward the beginning where Baby helps a magician, played by "Cousin Brucie" Morrow, with his sawing a woman in half routine, and the scene in which Neil asks Johnny to choreograph a different dance for the summer's end celebration. 
The rest of the departures from the original are additions of new scenes and song numbers. Plus, certain songs that appeared in the 1987 version are now performed live, by the characters, in the remake. Here is a list of all the new song numbers (not including songs that appeared in the original) and scenes in chronological order:
5. New song and scene: Baby tries to dance back to her cabin to "I'll Take You There"
6. New scene: A mess hall confrontation between Johnny and Robbie
Waiter Robbie Gould essentially calls Penny — played by Nicole Scherzinger — a slut, and Johnny jumps to her defense. It almost gets to blows, but Max Kellerman, owner of Kellerman's — played by Tony Roberts — comes in and threatens to fire Johnny over his inappropriate conduct with the female guests, i.e. Vivian Pressman.
7. New scene: Baby and her dad go golfing
This becomes an established pastime between father and daughter. This time, they discuss Baby becoming a doctor. Her father is not sure whether she wants to take this career path for herself or for him.
8. New scene: A tense tango in the ballroom
Marjorie Houseman, played by Debra Messing, tries to get her husband, Jake, to travel with her now that their kids are grown. Meanwhile, Penny runs outside in the middle of a dance to throw up. Baby follows her and learns that Penny is pregnant.
9. New song: "Fever," sung by Vivian Pressman 
Vivian Pressman, played by Katey Sagal, acts out the song dominatrix-style using Johnny as a sort of male prop. Marjorie appears to get off on it. Made famous in the 1950s by singer Peggy Lee, "Fever" was not in the original Dirty Dancing.
10. New scene: Robbie and Lisa have a picnic on the beach
Because Robbie seems like a nice, marriageable boy, Lisa, played by Sarah Hyland, sets up a picnic complete with wine for the Kellerman's staffer. After telling her he loves her and could see himself marrying her, however, Robbie essentially tries to rape Lisa, but she manages to escape. 
11. New scene: Jake asks Robbie to go golfing with him while the family is at lunch
Lisa, of course, gets weird about it, and tells her dad Robbie is busy. Then once he leaves, suggests he could be a murderer.
12. New song: "When I'm Alone," sung by Marco
J. Quinton Johnson, who plays Marco, is a new addition to the staff at Kellerman's. He plays a number of instruments and later becomes a love interest for Lisa.
13. New scene: Baby hires Johnny to give her dance lessons
She does this so Johnny and Penny don't feel bad about accepting the $250 she gives them for Penny's abortion.
14. New scene: Neil comes to the rescue
After her first dance lesson, a very sore Baby meets her family for lunch. When her dad asks if they're on for golfing, she lies and says she's going canoeing with Neil, Max Kellerman's grandson. He happens to come by the table just then, and when Jake asks him about the date, he covers for Baby, who is really going to take more dance lessons.
15. New scene: Marjorie confronts Jake
She comes into the bedroom in a silky nightgown, and when he turns her down for sex, she tells him he hasn't touched her in a year.
16. New scene: Marjorie learns what divorce can be like from Vivian
While Vivian and Marjorie get some sun, Vivian tells her how great she feels post-divorce, and Marjorie looks like she's seriously considering it.
17. New scene: Vivian gives Johnny her husband's gold watch
He turns it down, which is important for a later plot point.
18. New song and scene: Penny and Baby sing "Whole Lotta Shakin' Goin' On" during a dance lesson
While Johnny's busy, Penny teaches Baby how to let loose. This is another classic song made famous by Jerry Lee Lewis in the mid-1950s. 
19. New scene: Marco offers to teach Lisa how to play the ukulele for the end of summer talent show
20. New scene: Confrontation between Jake and Johnny
Jake thinks Johnny is the one who got her pregnant, and condemns him for his behavior. 
21. New scene: Jake talks to Penny post-recovery
After Jake essentially saves Penny from an abortion gone wrong, he tells her a medical scare like this should compel her to take stock of the choices she's making in her life.
22. New song: Marjorie sings "They Can't Take That Away From Me"
She prefaces her performance in the ballroom with the fact that "They Can't Take That Away From Me" is her song with Jake.
23. New scene: Marjorie asks Jake for a divorce
She says, "I'd rather be alone than lonely."
24. New scene: Lisa tells Baby about their mom asking their dad for a divorce
Baby lightens the mood afterward by telling her about having sex with Johnny.
25. New scene: Max and Neil search Johnny's cabin
They find the watch he initially declined from Vivian. She obviously framed him, and he's subsequently arrested.
26. Reprise of new song: Jake sings "They Can't Take That Away From Me"
27. New scene: Johnny gives Jake the money back that Baby borrowed for Penny
28. New scene: Jake takes Marjorie for a canoe ride
He apologizes for how he's been with her, they reconcile, and end up having sex in their cabin.
29. New scene: Marjorie gives Baby a new dress
It's the "grown-up" dress she wears in the "(I've Had) The Time of My Life" dance scene later.
30. New song: Lisa and Marco sing "Don't Think Twice It's Alright"
It's the song he taught her to play on the ukulele for the talent show.
31. New scene: 12 years in the future, Baby goes to see Dirty Dancing, the musical, on Broadway
After the show is over, Baby reunites with Johnny, who choreographed the production. It is then revealed that she wrote the book on which the musical was based. The two aren't together anymore, but it's clear there's still love between them.
Mic has ongoing ABC coverage. Follow our main ABC hub here.