Derek Hough explains the difference between 'Dancing With the Stars' and 'World of Dance'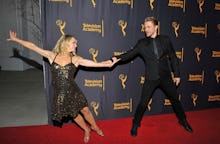 Dancing With the Stars fans no doubt recognize Derek Hough when he walks down the street. He's been a competitor on and off since 2007, and won the mirrorball trophy six times as well as two Emmys for his choreography work on the show. 
They may not, however, realize he does a whole lot more than dance on television. Not only did he have a guest star role on Nashville from 2014 to 2016, this year he's been sitting behind the judge's desk on NBC's new show World of Dance.
That doesn't mean that he's given up dancing, even temporarily. He's currently performing with his sister Julianne Hough on their sold-out dance tour titled Move Beyond. While on tour, he volunteered his time helping local organizations in cities he frequented, along with the Eh Bee family as part of a campaign with Flonase Sensimist. 
Hough spoke with Mic about why he chose to partner with Flonase in this way, as well as what it's like being a judge in World of Dance, and the impact his current dance tour has had on him. 
How does the judging on World of Dance compare to Dancing With the Stars? What are some of the differences?
Derek Hough: They're two completely different shows. Dancing With the Stars is for people who are learning to dance, as opposed to World of Dance — these are people who've dedicated their lives to dance. And it's open to the world. You know, we have acts from all over the world, and it's a $1 million prize. Just a huge, huge prize.
People ask you, you know, "Is it weird judging?" It's strangely not weird. I actually felt strangely comfortable straight away. Being a coach, and being a mentor, and being a teacher — essentially what you're doing is analyzing and trying to make something better, and you're giving critiques, and comments, and encouragement. So really it's the same thing. Now I'm just doing it from behind a desk.
I will say that the stakes are very high. So when I see a dance I might think, wow that's amazing, but is it a $1 million dance? Is that the dance I'm going to look at and go, "here's a $1 million?" It's very competitive and very exciting.
Do you ever talk to your sister about how you both feel about judging? Ever compare notes on how you judge? 
DH: Well there's two things. One is, you know, she's judging people who've not danced before, or people who have, but maybe not a particular style. It's just different.
On World of Dance, we have a rubric that's out of 100 points and there's different sections. There's this iPad in front of us that says like "performance" and that's 20 points, and you have "creativity" and that's another 20 points, and you have technique and that's another 20 points. So you can really break [a dance] down into the nitty-gritty. It's very specific and justifiable as far as the score goes.
You know, as a performer, I'd actually find [scoring] very hard sometimes on Dancing With the Stars. I'd think, wait, how'd I get a seven? It's just different, but [World of Dance] scoring — it's a little bit more specific.
We're also able to judge 40 dancers onstage rather than just a soloist.
You're currently on your Move Beyond tour, right? How's that going?
DH: It's been incredible, it really has. It's our third tour. When I first went to our producers and promoters and said, "Hey, I want to do this rock concert with dance," they shook their heads and said, "I don't get it, why would people come see that?" And here we are, our third sold-out tour.
It's been remarkable. Out of all our tours, this has by far been our best one. And what's even more amazing is meeting these incredible people — the audiences – and seeing them come up to us and say, "I saw your tour, the first one three years ago, and you said 'motion equals emotion' and it just stuck with me, and since then I've lost 100 pounds," and they'd show us the before and after picture. A lady came up to me the other day with this walker — she had lost 350 pounds.
She said, "I was watching you guys, and I was in pain and unhappy, and I was watching you move on that stage, and, you know, life doesn't happen to you, it happens towards you." I don't know, something clicked in me. Hearing those stories and connecting with them, for Juliana and I, it makes the entire experience extremely fulfilling. We feel extremely fortunate, not just to be able to share our passion onstage, but to impact somebody in some way at the right time.
Can you talk about any new projects on the horizon?
DH: There is a project I'm working on right now. I've been getting in contact with a bunch of my friends who are singers or in big bands. We've all become fans of one another. I basically want to create this concept album that works with all these different artists and different types of music and styles, and then create amazing music videos with them. It's more like a passion project I would say.
The very next project I'm working on though is I've got a wedding coming up in the family.
Whether it's Dancing With the Stars, World of Dance, a guest spot on a TV show, or a dance-based tour, Hough puts his whole heart into everything he does. No doubt the several projects he has on the horizon will be brimming with the same amount love and dedication. 
Mic has ongoing Dancing With the Stars coverage. Follow our main Dancing With the Stars hub here.