BLM activist calls gay NYPD Pride March invitation to Toronto police "disgraceful"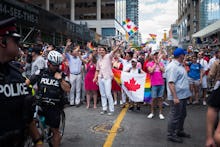 Gay New York City police officers have invited their Toronto counterparts to join their 2017 pride march contingency, a decision anti-racism activists find disappointing.
According to CTV, New York's Gay Officers Action League invited police officers from Toronto to join them after Pride Toronto banned the officers from officially participating in the city's pride festivities. NYC Pride confirmed GOAL's invitation in a phone interview. 
Pride Toronto voted in January to ban police after Black Lives Matter Toronto protested police presence during the July 2016 Pride Parade. A list of demands circulating from BLM Toronto activists included the "removal of police floats" from Pride marches.  
At the time of the vote, Toronto Police Association president Mike McCormack said the decision "offended" members of the association, according to Vice. McCormack asserted there was no bad relationship between police and Toronto's black population. 
Janaya Khan, a co-founder of Black Lives Matter Toronto, disagrees with that characterization of the Toronto Police Department, and called GOAL's decision to invite Toronto police "disgraceful" in a phone interview. 
"It's disgraceful that these sort of organizations within the police departments are reaching out to each other in this way in an act of solidarity," Khan said. "The police are not a marginalized group. They are a political and militarized institution." 
Toronto police have faced allegations of homophobia and racism in regards to multiple past instances of police brutality against black Canadians. Toronto police also stop and search black and brown Canadians at a far higher rate than white people. The more a person gets stopped, the more likely they are to be a suspect in later investigations, according to a report in The Star.  
Twenty-five percent of people who are stopped and profiled in Toronto are black, despite black people making up just 8.3% of the population. 
The New York Police Department have faced similar charges of racism, including its controversial stop-and-frisk policy and the choking death of Eric Garner.  
Khan also said there was "significant tone deafness" to the invitation, which they called a "betrayal" of the communities that police are supposed to serve.
Since the decision to ban official police presence at Toronto Pride, LGBTQ police officers in Toronto have said they'd feel "completely devalued and unsupported" if the city continued to fund the march.
New York's GOAL did not respond to Mic's multiple requests for comment.
Increased police presence in queer spaces after the Pulse Nightclub shooting in 2016 spurred protests from concerned LGBTQ New Yorkers who did not feel safe under police surveillance. 
Police presence has also been an issue with pride marches outside of New York and Toronto. In 2016, Black Lives Matter pulled out of their grand marshal gig at San Francisco Pride because of a heightened police presence at the event.