A shady Russian intel report may have pushed Comey to rip Clinton over emails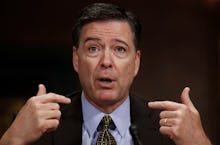 Former FBI Director James Comey's decision to break protocol during the 2016 elections and publicly chastise Democratic presidential nominee Hillary Clinton for her use of a private email server was informed in part by a suspicious Russian intelligence document of dubious accuracy, according to a Washington Post report on Wednesday.
According to the Post, the FBI obtained a copy of a supposed Russian intelligence document claiming to contain information about communications between Democratic National Committee Chair Rep. Debbie Wasserman Schultz (D-Fla.) and an employee at billionaire George Soros' Open Society Foundations. 
The Russian report alleged Schultz had emailed Leonard Benardo, an OFS official, informing him that Attorney General Loretta Lynch had privately informed Clinton's campaign by email that the Justice Department was working to limit the FBI's investigation into the email server.
If true, Lynch would have essentially been using her official powers to play damage control for Clinton. According to current and former officials interviewed by the Post, Comey held the now-infamous press conference in which he berated Clinton in part because he "feared that if Lynch announced no charges against Clinton, and then the secret document leaked, the legitimacy of the entire case would be questioned."
Comey's decision to blast Clinton over the email issue — as well as his curious decision to publicly discuss details of the case days before the election — had a major impact on the elections. As FiveThirtyEight noted, Comey's actions synchronized well with relentless Republican criticism of Clinton's handling of the server issue and had a major impact on her poll numbers — possibly contributing to her loss to President Donald Trump.
The report, however, was never substantiated by the FBI. The FBI never obtained the alleged email between Lynch and the Clinton campaign, nor did it interview any of the parties involved, and everyone name-dropped in the document denied any knowledge of the purported communications to the Post.
Many FBI officials believed the document was baseless — either bad intelligence obtained by the Russians or deliberate misinformation.
U.S. espionage and counterintelligence agencies believe Russian operatives were behind multiple attempts to sabotage Clinton's campaign at the personal behest of Russian President Vladimir Putin. Trump himself later fired Comey, drawing widespread suspicion that he did so to obstruct a separate FBI investigation into his own ties to Russia.