Facebook will pay you $10,000 to $35,000 to come up with your dream video show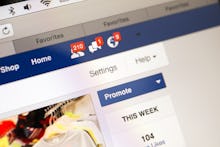 Good news for all aspiring filmmakers and writers out there: Instead of dealing with the lengthy ordeal of pitching a show for television, you can now pitch your show directly to Facebook — for big money.
Facebook announced in December it was looking to by original scripted and unscripted programming in an effort to build out its imminent video tab slated to launch later this year.
Now, according to Reuters, Facebook is pledging to shell out $10,000 to $35,000 for so-called "second tier" shows lasting only five to 10 minutes and will distribute 55% of revenue generated directly to the shows' creators. 
Earlier this year, Facebook hired former MTV executive Mina Lefevre who is reportedly in charge of the launch. Many journalists have speculated that Facebook's deepening foray into video is the social network's attempt to garner TV ad dollars and go head to head with services like YouTube and Hulu.
Facebook has yet to comment publicly on its efforts and so the exact pitching process for the shows remains unclear. Mic reached out for comment on the Reuters report but did not hear back from a Facebook representative before press time. 
Facebook has also signed terms with publishers such as Vox Media, BuzzFeed, ATTN, Group Nine Media for longer form shows, lasting 20 to 30 minutes — that Facebook will own — and is paying the media companies up to $250,000 for the content, according to Reuters.
In June, it was reported that Facebook would pay out more than $50 million to publishers and celebrities to create Live videos, yet failed to renew those contracts this year.
Sign up for The Payoff — your weekly crash course on how to live your best financial life. Additionally, for all your burning money questions, check out Mic's credit, savings, career, investing and health care hubs for more information — that pays off.