New 'Like One of Your French Girls' photo book shows drag at its most high-fashion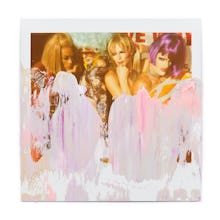 Your coffee table just got a whole lot more sickening.
Today, photographer Jeremy Kost, known for his racy Instagram presence, is debuting his new book, Like One of Your French Girls, a fine art, mixed media photographic series featuring some of the world's most famous drag queens.
From RuPaul's Drag Race winners Alaska Thunderuck, Violet Chachki and Sharon Needles to celebrated New York nightlife legend Amanda Lepore, the series takes Kost's nightlife muses and brings them into the light.
"Retiring from shooting in night clubs around 2010 and taking them into the daylight, I've always strived to change the conversation of drag queens into a more conceptual place," Kost said in an interview. "Making it about performance, identity and presentation beyond the expected. I hope that my images beg one to question whether this person exists like this on a daily basis or what is really happening in this moment."
Kost shot the book's 66 Polaroid portraits before painting over the images with thick pastel pigments.
"Reworking these Polaroids of friends who became stars in heavy swaths of oil paint bridges the conversation to a new place," he explained. "Talking about notions of make-up and masking, facade and abstraction, much like the characters themselves."
Trixie Mattel, a Season 7 RPDR alum, sees the book as a way for the drag-curious to slowly immerse themselves. 
"What I've learned, especially from doing Drag Race is that people sometimes feel more comfortable looking at drag on their own terms," Mattel said in an interview. "And something, whether it be DVRing Drag Race or this coffee table book is a way that people can take small bites. And I think most people will take their small bite and realize it's not as weird as they thought."
Like One of Your French Girls is out May 25 in the U.S. and May 31 in the U.K.