Advertisers are starting to pull their ads from Sean Hannity's Fox News show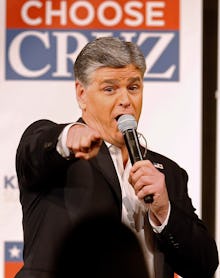 Fox News host Sean Hannity has lost at least four advertisers amid calls for a boycott against companies that advertise on his show. The calls have come after Hannity continued to promote a discredited conspiracy theory on his program even after Fox News itself retracted the story fueling the theory.
A spokesperson for the mattress company Casper said in an email interview on Wednesday that it had reassigned its ads so they will not run during Hannity's program. 
Cars.com has also pulled its advertising from Hannity's show, along with the cycling studio Peloton and the mattress company Leesa Sleep, BuzzFeed News first reported on Wednesday. 
Spokespeople for Cars.com and Leesa Sleep confirmed the decisions to Mic. Peloton announced its decision on Twitter on Wednesday. 
"The fact that we advertise on a particular program doesn't mean that we agree or disagree, or support or oppose, the content. We don't have the ability to influence content at the time we make our advertising purchase. In this case, we've been watching closely and have recently made the decision to pull our advertising from Hannity," a Cars.com spokesperson said in a statement. 
A spokesperson for the travel site Expedia.com said via email that the company was evaluating the situation, as did the pharmaceutical company AstraZeneca. 
Another advertiser, Hyundai, said in an email statement that while it had received several requests to stop advertising on the show, it would not make advertising changes. 
"We are aware of the sensitive storyline raised by Mr. Hannity and expect FOX News will use editorial discretion to ensure that all reporting is substantiated," the company said. "Our decision to advertise on any media property is not an endorsement of all views and opinions expressed within it. We are not making any changes to our advertising at this time, but we reserve the right to remove our ads if the content of the programming, or behavior of those responsible for the show, distracts from our mission as a brand."
Mic is reaching out to all of Hannity's advertisers to ask whether their advertising will remain on the program. We will continue to update this post as more information becomes available. 
The push for an advertiser boycott stems from Hannity's promotion of a discredited conspiracy theory involving the death of former Democratic National Committee staffer Seth Rich. The story in question, which claimed there was evidence proving Rich was in contact with WikiLeaks prior to his death, had been published on Fox News, and had been promoted on various Fox News programs. 
But subsequent reporting on NBC News, CNN and ABC News thoroughly discredited the story, and Fox pulled the article from its website on Tuesday, saying it "was not found to meet" the site's publishing standards. 
Hannity, in particular, had extensively covered the story. Following Fox's decision to pull the article, Hannity doubled down on the story, declaring that he "retracted nothing" and defending his coverage of the story. But on his program, Hannity, who claimed to have spoken to lawyers, said he would not discuss the story further for the time being. He claimed he was motivated to stop discussing the story out of respect for the Rich family, who had begged conservative media outlets to stop politicizing Rich's death. 
"Please do not interpret what I'm saying tonight to mean anything," Hannity said on his Tuesday night program, after he said he would not cover the story. "Don't read into this. I promise you I am not going to stop doing my job."
Hannity is requesting that his fans show their support for the program. On Wednesday morning, he tweeted out a hashtag-laden image and asked his fans to proclaim, "We go if he goes!" 
"Spoke to many advertisers," Hannity said in a separate tweet. "They are being inundated with Emails to stop advertising on my show. This is Soros/Clinton/Brock liberal fascism" — referencing the financier George Soros, former presidential candidate Hillary Clinton and media activist David Brock, all liberal stalwarts.
Hannity also claimed Tuesday that the liberal media watchdog Media Matters was leading the effort to get him fired from the network, in reference to a list of Hannity's advertisers that Media Matters staff published on Tuesday.
"IMPORTANT! Mediamatters is trying to silence me, get me fired, pressure my advertising on radio & TV," Hannity's tweet said. "Liberal Fascism. I need your help!!"
Angelo Carusone, the president of Media Matters, laughed when a Mic reporter read Hannity's tweet over the phone.
"That sounds like he's scared," Carusone said in a phone interview on Tuesday. "All we did was post a list of his advertisers and he thinks it's a threat. If he didn't think that he'd be in any trouble for this, he wouldn't care."
Carusone, who has helped facilitate several successful advertiser boycotts against controversial conservative media personalities, is not calling explicitly for an advertiser boycott against Hannity. Carusone said that the list, which his staff compiled using publicly available information, served to "put advertisers on notice," and was an extension of a May campaign intended to push advertisers away from Fox News.
"My sense is that media buyers will start to adjust their buys quietly and take some steps to insulate and protect their brands from volatility," Carusone said. "And I think Hannity has demonstrated consistently that volatility is associated with his programming and his content."
Will LeGate, a tech entrepreneur and Twitter personality, has explicitly called for a boycott of the companies who have advertised on Hannity. LeGate changed his Twitter name to #FireHannity, and he has asked people to join him in a boycott of Hannity's advertisers.
"I'm boycotting Hannity advertisers until they stop funding his disgusting fake news & conspiracy theories. RT if you're joining!" Legate said in the tweet, which included a list of some advertisers on the show. The tweet has since been retweeted more than 15,000 times.
Sleeping Giants, an anonymous organization on Twitter that ran campaigns to boycott companies which advertised on Bill O'Reilly's now-cancelled Fox News program, said Tuesday that there have been "a ton of" requests for a Hannity advertiser boycott. It would not commit, however, to calls for a boycott. "We're going to watch and wait," the group proclaimed.
Carusone said he thinks there is a "strong appetite for engagement and for accountability."
"Sean Hannity is leading his own campaign against himself," Carusone said. "What Sean Hannity is doing right now with this Seth Rich stuff is out of control, and even Fox News is saying that it's out of control, but they can't stop him."
A Fox News spokesperson did not respond for a request for comment.