Fight for $15 protest continues at McDonald's headquarters outside Chicago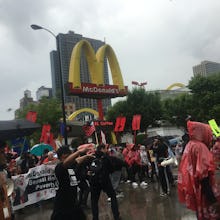 Hundreds of protesters called for a living wage and union rights outside McDonald's headquarters in suburban Chicago on Wednesday during the corporation's annual shareholders meeting, the Chicago Tribune reported.
In spite of an estimated 300 Fight for $15 protesters demonstrating outside the Oak Brook, Illinois, company headquarters, the meeting itself produced "few surprises," according to the Tribune.
Corporate Accountability International, a Boston-based nonprofit focused on corporate abuse, said in a statement provided to Mic that McDonald's executives continued to "operate in an alternate reality when it comes to its shareholders' meeting," which they say it has made more restrictive over the years.
"It was more of the same," Akili, project coordinator with Corporate Accountability International, said in a phone interview. "It's almost as if the protesters are in one world and they're in another. It was almost as if they don't see, hear or think that [the protesters] are outside."
Wednesday's protest outside McDonald's headquarters followed Tuesday's March on McDonald's in Chicago, in which workers protesting what they described as "poverty wages" were joined by groups like the Women's March, the Movement for Black Lives and Our Revolution to draw a parallel between McDonald's labor practices and the policies of President Donald Trump. 
"For all his populist thought, Trump has been nothing but a servant of billionaires and corporations," Larry Cohen, labor chair of Our Revolution and a former adviser to Bernie Sanders' presidential campaign, told Mic ahead of the march. 
Jorel Ware, a McDonald's worker from New York, said during the protest that McDonald's was "the Donald Trump of employers."
According to Corporate Accountability International, shareholders for the first time this year put forth a resolution calling on McDonald's to examine its charity.
"Charitable giving is where you give back to the community," Akili, who was present in the meeting, told Mic. "Their charitable giving is really a way to market their brand."
Akili specifically pointed to the company's "McTeacher's Nights," which have come under fire from teachers unions and education groups, saying they take advantage of the trust children put into their teachers to market unhealthy food to them.
According to preliminary voting, all shareholder proposals failed, the Tribune reported. 
"They are tone deaf," Akili said. "We wanted to make sure they heard our voice."
In a statement to Mic, a McDonald's spokesperson said the company provided "world-class training and education programs" to its workers and had in recent years raised wages and began offering paid time off for employees at company-owned restaurants. Additionally, the spokesperson said, McDonald's gives "eligible employees" opportunities for "extended learning," such as tuition assistance and high school completion classes.
"Together, these important investments in our people show why we are committed to being America's best first job," the spokesperson said.
But during a rainy protest Tuesday in Chicago, workers said the job was more than that — it was a job they depended on to survive.
"This movement has so much momentum," Naquasia LeGrand, a fast-food worker and longtime Fight for $15 activist living in North Carolina, said in an interview Tuesday. "It makes me want to work even harder."