New data trove will use Google and Zuckerberg money to shine a light into our police force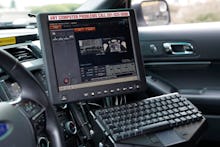 Police reformers in the U.S. have faced a persistent obstacle: Comprehensive, public information about what's going on with America's criminal justice system is difficult, if not impossible to come by. How many shootings are there nationwide? How many police are on the job with untreated post-traumatic stress? The answers to many of these questions simply don't exist. No one is collecting the data.
"People yell about police reform, but because we have no data on problems around policing, people just throw paint at the canvas," Nick Selby, a Texas detective who works on police reform, said in an interview last year.
Now, a pair of internet giants are teaming up to bring a privately-funded answer to the yawning gap created by the inaccessibility of knowledge about our criminal justice system.
A new database called Measures For Justice is publishing an easy-to-use site that will collect criminal justice data buried deep in clunky public records systems. With millions of dollars in funding from Facebook CEO Mark Zuckerberg's charitable foundation and Google, Measures For Justice will attempt to build one of the broadest, most accessible stores of criminal justice data available to the public. But it's going to take a long time to get there.
Because the federal government doesn't collect this data on its own, the job of tracking trends in the criminal justice system is left to foundations and journalists. The only way the public can grasp how many police shootings there are in the nation at all is through projects at media outlets like the Guardian and the Washington Post. The only database keeping track of murders of transgender people is here at Mic.
Measures For Justice has its work cut out for it. So far, the group has mapped about 10% of the nation's 3,007 counties, covering 6 states in total. The work was labor intensive: Much of that data was collected by pairs of researchers driving to courthouses to collect it by hand.
With the latest influx of cash, Measures For Justice will be able to work much quicker.
"Now that we have a good handle on what needs to be processed, and what needs to happen going forward, everything gets sped up, and it won't take nearly as long to collect the next batch of states," Fiona Maazel, the communications director for Measures For Justice, said in a phone interview Wednesday.
The question becomes: Once we have that information, what will we find out?