15 emerging European cities to visit before everyone else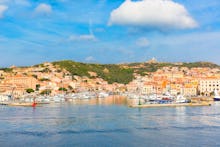 Europe's biggest capitals — Rome, Paris, London — get a lot of love. But for your next trip, don't overlook the smaller European cities, which have thinner crowds and lower hotel, restaurant and attraction prices. You'll also get to travel the continent like a local — you're much less likely to find massive tour buses and translated-to-English-with-pictures dinner menus here. 
We enlisted TripAdvisor to gather exclusive flight search data on where Europeans are traveling this year. Head to these beach towns and culturally rich hubs of history before the rest of the world finds out. 
Sevilla, Spain
Searches for flights to Sevilla increased 57% since last year, making it one of the most increasingly popular spots in all of Europe. Why? This Andalusian city has it all. You can spend days in the picturesque Parque de Maria Luisa, a public park with ample green space, known for its flocks of white doves. Inside the park, you'll also want to visit the neo-Moorish Plaza de España. The city's other landmarks include the Real Alcázar, a palace that dates back to the 14th century, and the Seville Cathedral, the largest Gothic cathedral in the world. Simply walking the street, sprinkled with historic Spanish architecture, will feel like a trip in itself. Art galleries, hoards of boutiques, restaurants and bars also help you unwind and treat yourself while in Sevilla. 
Jerez de la Frontera, Spain
Just an hour's drive or train from Sevilla, Jerez de la Frontera is another increasingly popular Andalusian vacation destination, with searches for flights here increasing 31% since last year. Similar to Sevilla, the Cathedral and Alcazar, or fortress, and its surrounding public grounds are must sees, but Jerez has another boozy lure: Sherry. This southern Spanish town is the only place in the world where proper Sherry can be produced, so you'll want to tour the bodegas where the region's most famous export is made. Other attractions in Jerez include the Arab Baths, Flamenco Museum and an odd yet intriguing clock-themed museum, all to help pass the time before you crack open that next bottle of sherry.
Valencia, Spain 
Searches for flights to this Spanish seaside paradise increased 26% since last year. This port city is known for being a hub of culture, meaning you can also get your daily dose of educational activities and sightseeing in between trips to the beach. Visit the Museo de Bellas Artes for your fine arts fix and the City of Arts and Sciences building to seep in the futuristic architecture. Plenty of smaller museums, historic buildings and sweeping public parks also cover Spain's largest city, but it may be hard to break away from the turquoise waters to fit it all in on your first visit. 
Bilbao, Spain  
Searches for flights to Bilbao increased 24% since last year, and for good reason. This Basque city was originally put on European tourists' maps when the Frank Gehry-designed futuresque Guggenheim Museum opened in 1997. Twenty years later, tourists from all over the world visit the museum, its acclaimed restaurant, Nerua, and the dozens of Michelin-starred and Michelin-recommended restaurants in town and the surrounding region. 
In Bilbao, you can stroll along the river from the Guggenheim to Old Town, where you'll wander the narrow winding streets to shop, drink and munch on pintxos (the Basque equivalent of tapas). With San Sebastian an hour's drive to the east and La Rioja, Spanish wine country, an hour south of Bilbao, it's easy to turn a weekend in this small city into a full-fledged Spanish vacation.  
Bologna, Italy
Italians are flocking to the hometown of bolognese sauce. Searches for flights to this city increased 79% since last year. The capital of Italy's Emilia-Romagna region is sprawling with Renaissance architecture and, more deliciously, countless small producers of Parmigiano-Reggiano cheese, Reggio Emilia balsamic vinegar, prosciutto di Parma, wine and more Italian specialties. Of course, you'll want to fill up on a meaty Bolognese sauce while you're here and you can even learn to make the traditional sauce yourself at the Bologna Cooking School. 
Olbia, Italy
Searches for flights to this northeastearn Sardinian town increased 25% within Europe this year. Villas, traditional hotels and luxe resorts offer a wide range of accommodations to experience this lesser-known Mediterranean paradise, just half an hour from the more popular vacation destination Costa Smeralda.
Stop in Olbia for a few days to soak up the sun on the beach, eat Sardinian specialties and wander through the colorful streets. And while you're in the area, a trip to Arcipelago di la Maddalena National Park is a must for mountaintop views of the pristine aquamarine landscape. 
Catania, Italy
Europeans increased their searches for fights to this Sicilian port town 23% since last year, so book a visit to the Ionian Sea before the whole world starts sunbathing in Sicily. Located at the base of notorious active volcano Mount Etna (which erupted in February), excursions to the mountain are generally considered safe and overwhelmingly worthwhile for the unique terrain and view. 
And when you're not hiking or sitting on a boat on the coastal strip, you can take in the historical architecture at the Piazza del Duomo, visit one of the largest monasteries in Europe, walk around the medieval Castello Ursino, tour Roman ruins and seep up more ancient and European history, all interspersed with trips to the beach. 
Bari, Italy
Interest in flying into Bari increased by 15% this year since last, and a few image searches for this coastal Puglian city will show you why. All you really need to do to ensure a good time here is relax and eat pasta, but if you're set on seeing some sights, historic castles, churches, piazzas and a bustling old town, Bari will immerse you in Italian culture. As you stroll around town, be on the lookout for Bari's pasta divas: The women making homemade pastas in windows and open doorways at shops and homes in Bari. 
For a day-long beach break, head about an hour inland to Altamura to tour the architecture and eat pasta (orecchiette is the region's signature pasta shape) and the fresh bread the city is known for. 
Pisa, Italy
There's more to Pisa than its askew architectural gem. Flight searches to this Italian town increased 15% among Europeans since last year, presumably by those who wanted to see the Tower of Pisa or start an Italian road trip (you can take buses and trains if you're not a driver) in this small Tuscan town. 
From Pisa, all of Tuscany is within reach, whether you want to disappear in a vineyard for a week or hike the Cinque Terre, a colorful cluster of five seaside villages known for their incredible natural beauty. 
Basel, Switzerland and Mulhouse, France
European interest in flying into EuroAirport Basel Mulhouse Freiburg increased 21% since last year. Though you'll have to catch a connecting flights in Europe or the U.K., the airport services France, Switzerland and Germany, so you can visit a cluster of adorable towns in a trio of countries in just one trip. Mulhouse is home to several transit museums, a notably diverse zoo and clusters of antique architecture (visit the millennial pink Hotel de la Ville) and old streets you expect to see in Europe.  
On the Rhine River, Basel is a hub of cultural activity, from its local art museum to the eccentric but intriguing Dollhouse Museum. Home to its own zoo and almost a dozen more museums, it's hard to run out of attractions to visit in this Swiss city. 
Venture out to Freiburg, Germany, where you can relax in the Turkish baths, bicycle through the historic districts and embark on a theatrical living history tour to see what this town on the edge of the Black Forest used to be like.
Toulouse, France
Interest in flying into Toulouse increased 13% since last year. Nicknamed La Ville Rose, thanks to all its light pink brick buildings, Toulouse is a peaceful pink respite in southern France. Walk along the Garonne River at any time of day for gorgeous views of the city and the Pont Neuf bridge connecting the two sides of the city. Along with museums, galleries, gardens and centuries-old churches to visit, Toulouse also provides a central location to escape to Bordeaux for a quick wine getaway.  
Jersey, United Kingdom 
Forget the Jersey Shore, Europeans are all about visiting the original Jersey this year, with a 62% increase in searches for flights to this Channel Island destination. The 45-square mile island is packed with attractions, like the Jersey Heritage Museum, several castles and plenty of hiking and boating to fulfill your outdoor fix. Average summer temperatures on the island of Jersey hover in the low 60s, so you're not here just to sunbathe near the boardwalk but also to enjoy the ocean breeze and incredible cliffside views while seeping up local culture. 
Bristol, England
About a two-hour drive or train ride from London, this southwestern British town has seen a 33% increase in flight interest since last year. Bristol pretty much has everything, from more rustic camping excursions to luxury countryside accommodations, as well as bargain city hotels to help make the most of your sightseeing. A buzzing pub and coffee shop culture, as well as the internationally inspired St. Nicholas Market, and restaurants serving everything from pho to tapas should keep you occupied, though there are plenty of attractions to see between meals and tea time. Admire the Clifton Suspension Bridge, visit Gorilla Island at the Bristol Zoo and immerse yourself in the picturesque beauty of Dyrham Park (just a bit outside of Bristol proper). Visit Bristol has a slew of itinerary ideas as part of its #BristolBucketList2017 to help you make the most of your time here. 
Liverpool, England
Liverpool may not have the same allure as London (about a three-hour drive away) but searches for flights to the birthplace of the Beatles increased 22% since last year. When in Liverpool, a visit to the Beatles Story, a museum dedicated to the British band, is a must. Bus, bike and walking tours also help you retrace the Beatles' steps, from the bandmates' childhood homes to the Casbah Coffee Club where the group got its big break. 
If you're not a Beatles superfan, there are plenty of historic churches (and even a synagogue), cultural museums, pubs, boutiques and performance spaces to keep you occupied.
Southampton, England
Bearing the same name as the elite Long Island vacation destination, England's Southampton is also becoming an increasingly popular holiday spot, with an 18% increase in flight interest since last year. Less than two hours (driving or by train) from London, Southampton is a coastal getaway drawing over 4 million visitors each year. Here, you can visit the SeaCity Museum, which houses an interactive model of the Titanic as well as artifacts from the sunken ship. If you're eager to get on the water, book a day cruise or duck tour to admire the coast, or enroll in sailing school to learn how to guide your on ship.  
And if you really want to relax, enroll in an internet-famous Goga class (that is, yoga with baby goats) at Mucky Bucket Farm. No wonder everyone is flocking to Southampton.