Greg Gianforte, GOP candidate in Montana election, charged with assaulting reporter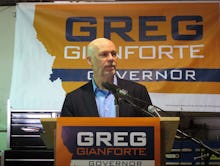 On Wednesday, the Gallatin County Sheriff's office charged the Republican candidate in the 2017 Montana special election, Greg Gianforte, with misdemeanor assault for allegedly strangling and punching Guardian reporter Ben Jacobs.
Jacobs claimed an unprovoked Gianforte "body slammed" him at a campaign event in the city of Bozeman. In a statement, local law enforcement said "the nature of the injuries did not meet the statutory elements of felony assault," but said Gianforte was issued a misdemeanor citation.
According to audio of the exchange posted by the Guardian, Jacobs was asking about a recent Congressional Budget Office analysis of the Republican plan to repeal and replace the Affordable Care Act before Gianforte flipped out, slamming him to the ground and breaking Jacobs' glasses.
"I'm sick and tired of you guys," Gianforte yelled. "The last guy who came here did the same thing. Get the hell out of here. Get the hell out of here. The last guy did the same thing. Are you with the Guardian?"
"Yes!" Jacobs responded. "You just broke my glasses."
"The last guy did the same damn thing," an angry Gianforte shot back.
"You just body slammed me and broke my glasses," Jacobs said.
"Get the hell out of here!" Gianforte yelled. Jacobs said he would be contacting the authorities.
Though the tape only includes audio of the encounter, a team of Fox News Channel reporters were present during the scuffle.
"Gianforte grabbed Jacobs by the neck with both hands and slammed him into the ground behind him," Fox's Alicia Acuna wrote. "[We] watched in disbelief as Gianforte then began punching the man, as he moved on top the reporter and began yelling something to the effect of 'I'm sick and tired of this!'"
Acuna continued, "To be clear, at no point did any of us who witnessed this assault see Jacobs show any form of physical aggression toward Gianforte, who left the area after giving statements to local sheriff's deputies."
Alexis Levinson, a reporter with BuzzFeed, tweeted she had been in the room when it happened and "I'm not sure I've seen anything like this before ... Ben walked into a room where a local TV crew was set up for an interview with Gianforte. All of a sudden I heard a giant crash and saw Ben's feet fly in the air as he hit the floor."
According to the Bozeman Daily Chronicle, Jacobs was later evaluated in an ambulance while Gallatin County deputies questioned Gianforte. The candidate later left the event without speaking, while Jacobs told MSNBC during a later TV interview he was taken to a hospital to receive x-rays on his elbow.
In a statement, Gianforte's campaign doubled down on the incident and blamed it on "aggressive behavior by a liberal journalist."
In their version of events, Gianforte told Jacobs to take a recording device out of his face — an assertion not supported by the audio evidence or the Fox account. The campaign added "Greg then attempted to grab the phone" before Jacobs was injured in an ensuing scuffle, a seeming admission Gianforte started the physical confrontation.
If convicted, Gianforte could be fined up to $500 and face up to six months in county jail, per Montana law. That doesn't factor in the possible political consequences, or any possible civil lawsuit over the incident.
Gianforte and his opponent, Democrat Rob Quist, will face off in a widely anticipated election on Thursday. Earlier on Wednesday, Politico reported, GOP strategists were worried that polls were closing to a worrying margin despite the state voting for GOP President Donald Trump by 20 points just last year.
Earlier in May, Gianforte defended his decision to donate to an accused white supremacist, Taylor Rose, by saying "I was unaware of some of his views and we supported him because we supported all (Republican) candidates in the last election."
May 25, 2017, 1:40 a.m. Eastern: This article has been updated.