Manchester police stop sharing information with U.S. following leaks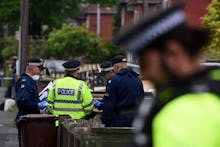 Inability to keep sensitive information under wraps has prompted U.K. police to stop sharing evidence from its investigation into the Manchester bombing with the United States, according to the Guardian.
The decision follows the New York Times' publication of forensic photos on Wednesday, reportedly enraging British authorities. The images showed shrapnel, shreds of a backpack and a mangled battery. 
A national counterterrorism spokesperson told the Guardian that the U.K. "greatly value[s]" its international intelligence relationships, and "when that trust is breached it undermines these relationships, and undermines our investigations and the confidence of victims, witnesses and their families." 
"This damage is even greater when it involves unauthorized disclosure of potential evidence in the middle of a major counter-terrorism investigation," the spokesperson added.
The information-sharing ban applies exclusively to the investigation into Monday night's bombing, in which 22 people were killed and 59 wounded after an explosion erupted as crowds were leaving an Ariana Grande concert at the Manchester Arena. The police identified 22-year-old Salman Abedi as the suspect, and the Islamic State group, also known as ISIS, has since claimed responsibility for the attack. 
The photos aren't the first pieces of information to make their way from the U.S. government to the U.S. media during the course of the investigation: According to the Guardian, U.S. press outlets named Abedi before British authorities made his name public. While Prime Minister Theresa May reportedly had nothing to do with cutting off the U.S., a senior government source told the Guardian that the leak was "unacceptable."
These images from inside the American system are clearly distressing to victims, their families and other members of the public. Protests have been lodged at every relevant level between the British authorities and our U.S. counterparts. They are in no doubt about our huge strength of feeling on this issue. It is unacceptable.
May does plan to bring up the leaks to President Donald Trump when the pair meet at a Brussels NATO conference on Thursday.
While the government isn't pinning the leaks directly on Trump, the steady drip of information trickling from the White House has already alarmed U.S. allies and threatens our broader intelligence relationships.