Ex-Playmate Dani Mathers pleads no contest to invasion of privacy, will not do jail time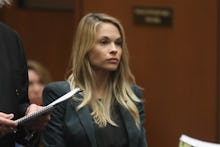 Former Playmate Dani Mathers is not heading to jail over that photo of a naked stranger she circulated on Snapchat. Instead, she'll serve 30 days of graffiti removal and three years probation, according to the Huffington Post. 
Mathers pled no contest to misdemeanor charges of invasion of privacy on Wednesday, after she secretly snapped a picture of a 70-year-old woman showering at an L.A. Fitness last July. Mathers shared the image, alongside a selfie in which she can be seen covering her mouth in feigned shock, with the caption, "If I can't unsee this then you can't either," to her thousands of followers.
Backlash was swift and unforgiving, prompting Mathers to apologize on Snapchat, Twitter and Instagram. L.A. Fitness banned her from all its locations. She lost her job at a Los Angeles radio station. The Los Angeles Police Department quickly began investigating the model, tracking down the woman in her photo, who — it turned out — was more than willing "to help bring Mathers to justice."
Earlier this month, Mathers' attorney, Dana Cole, attempted to argue around the invasion of privacy charge, asserting that the photo had been taken from too far away for its subject to be identifiable, as California's Peeping Tom laws require. That defense didn't fly, but the former Playmate did escape what could have been a six-month jail sentence.
Los Angeles City Attorney Mike Feuer, the prosecutor on the case, said the matter was of personal importance to him. 
"I thought of the case from the outset as a dad and as a son," Feuer said, according to the Huffington Post. "Body-shaming is humiliating. It devastates its victims. It tears down their self-respect."