Man reportedly makes dating profile for his ex, sends strangers to harass her at night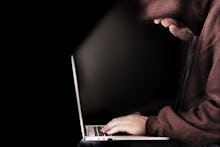 A woman in Canada believes her ex-boyfriend is sending sex-seeking strangers to her door in the middle of the night, using the services of the Vancouver-based dating site Plenty of Fish. After more than 30 men buzzed her doorbell in four nights, the woman told CBC News she hadn't "slept in a week."
"My main concern is my safety, because if he sends the wrong sex-crazed maniac to my house ... and he forces his way in, who knows what could happen," she said.
The woman, who lives with her two young daughters in Edmonton, Alberta, said the men claim to have met her on Plenty of Fish. She believes her ex, whom she described to CBC as "very, very abusive," is following up on a threat he allegedly made after she recently took out a restraining order against him. According to CBC, he emailed her to say that men would start showing up on her doorstep if she didn't "do the right thing."
Women are frequent targets of internet abuse. A recent study by Statistics Canada found that 31% of women between the ages of 15 and 29 had experienced cyberstalking and cyberbullying. A 2014 survey by the Pew Research Center found that women are disproportionately victimized online: Of female participants between the ages of 18 and 24, 26% said they had been cyberstalked and 25% said they had been sexually harassed.
When CBC reached a Plenty of Fish spokeswoman, she said the only way the site could remove the fake profiles is if the woman gave the company a list of usernames — something the woman is unable to do because she did not create them and has no idea what they could be. In an email to Mic, Plenty of Fish public relations and communications manager Shannon Smith said the offending profiles had been deleted on May 17 and May 20, "thanks to our watchful community of users."
As described, the behavior violates Plenty of Fish's terms of service, which forbid members from using the site "to infringe the privacy rights, property rights, or any other rights of any person," or in any way that "violates, plagiarizes or infringes upon the rights of any third party" or "is fraudulent or otherwise unlawful or violates any law." The terms of use also state the following:
You will not post or transmit in any manner any contact information including but not limited to email addresses, 'instant messenger' nicknames or contact information, telephone numbers, postal addresses, URLs and full names through publicly posted information on the Website and through its Services.
Even if a user's actions violate the sites terms of service, though, identifying the accounts he's operating introduces a separate set of obstacles. Perhaps Plenty of Fish could track the phone numbers and email addresses he uses, but that would be difficult if he has a burner phone or set up a fake email address. It could potentially trace the fraudulent accounts to an IP address, but getting around that hurdle is as easy as taking one's computer to a coffee shop.
In a phone interview, David Fraser — a Nova Scotia-based internet, technology and privacy lawyer with McInnes Cooper — said that, for all those reasons, there's not much Plenty of Fish can do to effectively police its users. If someone really wants to engage in harassment, he said, there's little to stop them from doing so.
"I hesitate to put too much on Plenty of Fish to take responsibility for it," Fraser said. "It's labor intensive and time consuming to connect the dots sufficiently to connect an individual to the conduct." 
It's also expensive, and not really within the scope of what a free dating site can hope to achieve. Still, Fraser said, people often proceed as if they were anonymous online, when really they're pseudonymous. They leave trails, and those trails can be traced — in this case, Fraser thinks connecting the dots is a job for the police. "I would think that this is a solvable issue," he said, "and it's one where charges could or should result."
The case in question could constitute criminal harassment, Fraser said. Common law in Canada also prohibits the intentional infliction of emotional distress. The current legal system, though, was designed for crimes that occur in real life: It's not always easy to apply the law to the nebulous, intangible realm of the internet. 
And that's where law enforcement run into roadblocks too: Their investigatory methods haven't evolved at the same pace technology has, and they often lack the tools to police crime online. Fraser pointed to a similar incident that began in Nova Scotia around 2010, in which a young woman's ex-boyfriend posted an ad on Craigslist after they broke up. Posing as his former girlfriend, he solicited men to show up at her home while she was sleeping and indulge her purported "rape fantasies." At the same time, nude photos the woman had shared only with the boyfriend surfaced on sites like 4chan, attached to her name and phone number. Those weren't directly traceable to the boyfriend, but the Craigslist ad was.
While lawyers agreed that the young woman had a case, police didn't know how to handle an investigation. They fumbled it, and never ended up bringing charges. According to Fraser, crimes like these demand time, money and energy police departments might not have, but they also require training. Right now, that's arguably the biggest barrier to justice for victims of cyber harassment, whether it's happening on platforms like Facebook; within in the United States Marine Corps; or in shadowier corners of the internet. 
"It's not as though this [cyber harassment] is going to become less common, this sort of thing is going to become more common," Fraser said. "And so the police really need to up their game in a lot of ways, because this is the new frontier."
Yet Acting Sgt. Phil Hawkins of the Edmonton police department's cybercrimes investigation unit feels up to the task. He told CBC that he was confident that the perpetrator would be caught and prosecuted. 
"We want to get the message out, you can't hide behind the internet," Hawkins said. "You leave a digital footprint everywhere you go."