Sarah Hyland has an important message for people asking about her weight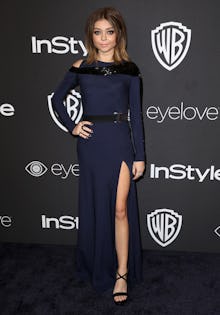 Sarah Hyland shut down body-shamers with two simple tweets. 
On Wednesday, the Dirty Dancing and Modern Family star addressed the comments regarding her weight after a recent Instagram post. 
Hyland, 26, wrote in a note on Twitter that she's been suffering from an undisclosed illness over the past year that has impacted her health severely. As a result of the medication she is taking, prednisone, her face has become swollen and it has affected her weight. 
In her posts, Hyland simply asked for privacy and respect from her fans and followers. "I haven't had the greatest year. Maybe one day I'll talk about it but for now, I'd like my privacy. I will say that this year has brought a lot of changes and with that physical changes. I have been told I can't work out," she said. 
With fans commenting on how thin she appears, the Dirty Dancing actress took aim at those leaving negative comments. "I am not a fan of 'being skinny.' Which many of you have told me that I am too much of. 'Eat a burger,' 'Your head is bigger than your body and that's disgusting'" she said.
"And you're right!" she said. "I should eat a burger! Cause they're fucking delicious. But guess what. I do :) And again, you're right. No one's head should be bigger than their body, but considering I've been on bed rest for the past few months, I've lost a lot of muscle mass." 
Hyland says her health issues have put her in this situation and that she isn't in control of her appearance. 
"It's never fun to look in the mirror and see your hard work at the gym fade away or have your legs be the size of one's arms," she said. 
She ends her note with a very clear message for those hating on her appearance. "Love the you you set out to be," she tells her fans. She notes her image will never please everyone and she really doesn't care. 
"Love and positivity are what we need most. Especially in a time like this."
Mic has ongoing TV coverage. Please follow our main TV hub here.