'Far Cry 5' Cover Art: Ubisoft box reveals creepy, extremist, religious militia group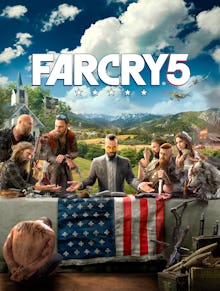 Ubisoft just revealed a piece of key art for Far Cry 5, and it looks like players will be taking on a group that feels a little close-to-home in the hate crime-ridden age of Trump: extremist, religious, white Americans.
We'll have to wait for the Far Cry 5 full reveal scheduled for May 26, but the key art is jammed with tons of detail that hint at what themes the game is likely to engage with.
Far Cry 5 key art reveals a creepy, extremist, religious American cult
It's worth noting this art closely mimics The Last Supper (embedded below), an iconic painting of Jesus and his disciples painted in the late 15th century by Leonardo da Vinci. However, instead of Jesus in the center, we see a menacing-looking man looking out from a pair of yellow sunglasses — a shade of lenses hunters often use to reduce eye strain.
Similarly, instead of religious artifacts and food adorning the table, Far Cry 5 shows us an intimidating spread of weaponry — ranging from bows, to pistols, to rocket propelled grenades.
It's not just religious symbols the key art from Far Cry 5 contorts, either: Its use of the American flag indicates that this group will also use extreme nationalism in its ideology. For example, the American flag on the table has its classic stars replaced with some kind of cross symbol that very closely resembles the iron cross used by Nazis during WWII.
Similarly, as Polygon noted, the flag hanging above the American flag in the background — presumably that of the cult — violates basic American flag etiquette, indicating that this group considers its group identity to be of greater importance than allegiance to the United States.
And, of course, it's impossible to talk about that Far Cry 5 image without discussing the seated man in the foreground, who has his hands bound behind his back with the word "sinner" etched into his skin.
Whatever these Far Cry 5 characters are up to, it sure sounds like we'll be in for one hell of a ride. If you missed the brief teaser trailer that debuted earlier this week, be sure to check that out here.
We'll have more on Far Cry 5 following Ubisoft's full reveal on May 26.
More gaming news and updates
Check out the latest from Mic, including our list of video games that made fun of their players, a personal essay about dealing with anxiety through Breath of the Wild, a look at the racist and sexist experiences in esports and a plea for better character customization options for black characters.