Why is 'Baywatch' rated R? The reason this summer movie is not for kids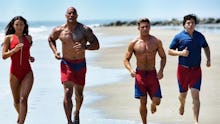 The film adaptation of the 1990s series Baywatch, one of several must-see movies this summer, opens in theaters Thursday. And although school is almost out and air-conditioned movie theaters are a popular escape for young movie goers during the hotter months, the makers of the film chose not to cater to them with a PG-13 rating. Earlier this year the film's star and producer Dwayne Johnson explained via Instagram why the film is going the risqué route.
"Our goal with #Baywatch is to bring y'all a big, fun, raunchy rated-R action comedy," Johnson wrote. "But, we also go hard core with our action rescues (this kid fell off a pier in extremely rough waves) and pay respect to ocean lifeguards worldwide who are truly the first responders of the beach," he continued.
In May, Johnson told Cinema Blend that although Paramount first pitched the film as PG-13, he felt the "cooler version" of Baywatch would be Rated-R. The darker twist to the plot also matched his sense of humor. 
Let's go hard Rated-R; let's take the character that was our villain, it was written for a man, let's write it for a woman, and let's bring in Priyanka [Chopra]. And also the idea that I could make a movie and that it would be Rated-R and that we could lean into it, it's my sense of humor! Very dirty, raunchy humor. So to be able to do this, is great. From being able to go from Moana! Fantastic.
One look at the Baywatch trailer and it reveals the action-packed scenes Johnson promised, along with plenty comedic relief and sexual innuendos. The Motion Picture Association of America officially gave Baywatch the R rating for its "language throughout, crude sexual content and graphic nudity." 
Although the film has taken on many changes from the original series, the show's stars David Hasselhoff and Pamela Anderson still show up to support, as they are confirmed to make appearances in the new film. 
Mic has ongoing Baywatch coverage. Please follow our Baywatch hub here.