It's not just the body slam. Greg Gianforte also has ties to accused white supremacists.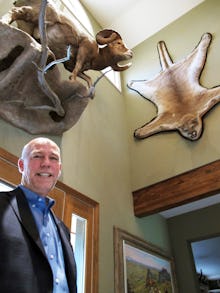 Greg Gianforte, the Republican candidate in Montana's special election charged with body slamming a reporter hours before the polls opened on Thursday, also has troubling ties to alleged white supremacists. 
Gianforte donated to the campaigns of both Taylor Rose, whom the Southern Poverty Law Center has described as a white nationalist, and Robert Saunders, who allegedly has a history of espousing anti-black racist views. 
Gianforte is also linked to Idaho preacher Douglas Wilson, who has suggested in his writings that the "black family has never been stronger than it was under slavery" and that women are "created to be dependent and responsive to a man." Gianforte received a $2,700 campaign donation from Saunders.
"It's not normal to support white supremacists," four Montana rabbis wrote in a letter to several newspapers in the state. "White supremacy is not a Montana value."
In a Missoulian article published May 18, Gianforte told the publication he wasn't aware Rose was an alleged white nationalist when he donated to his failed state campaign.
"I was unaware of some of his views, and we supported him because we supported all [Republican] candidates in the last election," Gianforte said.
When pressed, Gianforte would not say whether knowing of Rose's suspected beliefs would have affected his decision to donate to him, instead telling the paper that "hatred is wrong and has no place in government or politics."
Rabbi Francine Roston, who signed the letter to the editor, told Mic in an email it had been clear Rose was a white supremacist, and that Gianforte's response was "unacceptable."
"A recent blanket statement against hate by Gianforte, with no regret about supporting Rose in the past, is unacceptable to me from someone who wants to represent our state," Roston said. "In the end, Gianforte defended his actions by not condemning them."
Gianforte also has a history of attacking the press.
He lost the endorsements of the Missoulian and the Billings Gazette, two of the state's most prominent newspapers, after news of the alleged assault. The Gazette, in its editorial rescinding its endorsement, pointed out that this was not Gianforte's first "questionable interaction" with the press — they reported an instance in which he apparently joked at a campaign event about ganging up on a journalist. 
"Our biggest enemy is the news media," a man said to him at a meeting April 19, according to the Ravalli Republic. "How can we rein in the news media?"
"We have someone right here," Gianforte responded, pointing at a reporter. "It seems like there is more of us than there is of him."
"What he passed off as a joke at the time now becomes much more serious," the Gazette wrote Wednesday.
Gianforte, a tech executive who lost a bid for governor in 2016, has been a strong supporter of President Donald Trump. He has been joined by first son Donald Trump Jr. and Vice President Mike Pence on the campaign trail, and says he wants to work with the president to "drain the swamp and make America great again." 
Gianforte has ties to sanctioned Russian companies, and has also made donations to the anti-LGBT Family Research Council, which the Southern Poverty Law Center has labeled a hate group. 
Additionally, he is a Young Earth Creationist who has donated to a museum that presents a "biblical view" of dinosaurs and humans coexisting. He supports defunding Planned Parenthood, opposes sanctuary cities and once invoked the biblical story of Noah to condemn the concept of retirement.
"How old was Noah when he built the ark? Six hundred," Gianforte said in 2015. "He wasn't like, cashing Social Security checks, he wasn't hanging out, he was working. So, I think we have an obligation to work."
Gianforte's alleged assault on Jacobs apparently came in response to a question about the Congressional Budget Office's score of the American Health Care Act, which was released Wednesday.
It's not clear how the attack will impact Thursday's special election to fill the House seat left vacant by Republican Ryan Zinke, who is now serving as interior secretary on Trump's Cabinet. More than half of the state's vote has already been cast by mail, and the state is deep red. 
But Democrat Rob Quist — a cowboy hat-wearing folk singer backed by Sen. Bernie Sanders — has recently gained ground on Gianforte, and Democrats called on the Republican to withdraw his candidacy following Wednesday's alleged assault. 
Gianforte's campaign did not return Mic's request for comment. In an earlier statement, a spokesperson for Gianforte blamed the altercation on "aggressive behavior from a liberal journalist."
Rabbi Laurie Franklin, who penned the rabbis' letter to the editor, told Mic she wished for healing and called on Gianforte to withdraw from the race.
"It's disturbing that a candidate for national office lacks the self-control to participate in the typical back and forth among public figures and the free press," Franklin said. "Gianforte's attitude aligns with Trumpian disregard for and arrogance toward the press."