Navigating Trump's America: The latest CBO score finishes off the already-doomed AHCA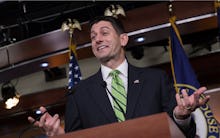 It had already become clear the American Health Care Act was "dead on arrival" in the Senate, a phrase Republican senators have become fond of. But Wednesday's scoring of the AHCA from the Congressional Budget Office likely sealed the bill's Senate fate.
23 million people would lose or drop off insurance if the AHCA passed. That's 1 million fewer people, across a decade, than the first iteration of the bill. Like the first proposal, the AHCA could be financially beneficial to young and healthy Americans. But it would leave 51 million people uninsured in the United States by 2026, compared to 28 million under the Affordable Care Act.
Premiums for older Americans could rise as much as 700%. Broadly, premiums would rise 20% next year and 5% in 2019 compared with current law. People with pre-existing conditions or those in need of specific benefits could quickly be priced out of the market in states that pursue a waiver from requiring essential health benefits and protections for preexisting conditions. The CBO singled out people who need maternity care or care for people with substance abuse, saying that medical treatment could incur thousands of dollars in additional out-of-pocket expenses.
Here are five takeaways from the CBO's scoring of the AHCA. 
This is Mic's daily read on Donald Trump's America. Welcome to the political newsletter that hopes you have a picture of Mitch McConnell's facial expression when the latest CBO score was released. 
What we're watching
Today: The latest CBO score finishes off the already-doomed AHCA in the Senate.
More: A candidate for Congress in Montana just attacked a reporter.
Even more: Russians discussed how to influence Donald Trump through Michael Flynn.
Yes, more: Some of Sean Hannity's advertisers are abandoning him.
Trump's agenda today: Meeting with leaders of the European Union. Meeting new French President Emmanuel Macron.
Montana Republican congressional candidate charged with misdemeanor assault for body slamming reporter 
The Republican candidate for Montana's only seat in the U.S. House was charged with misdemeanor assault early Thursday after allegedly body slamming a journalist in Bozeman, Montana. Greg Gianforte was preparing for a TV interview when Ben Jacobs, a Guardian reporter, put an audio recorder in front of him to ask a question about health care. Audio and eyewitnesses confirmed Gianforte then grabbed Jacobs by the neck and threw him to the ground.
Gianforte is running against Democrat Rob Quist to replace President Donald Trump's Interior Secretary Ryan Zinke in the House. With about 1 million residents, Montana has only one member of Congress for the entire, 630-mile-wide state. Montana supported Trump by 20 points in the presidential election, but recent polls have shown the race tightening. Gianforte's criminal charge, coming at a time when outsized news resources were already focused on the state, could push Quist over the line. But because of early voting, too many Montanans may have voted before news of the assault spread.
More trouble for Fox News 
Four of Sean Hannity's advertisers have cut ties with his prime-time Fox News show. The beginnings of an advertising boycott come after Hannity's conspiracy mongering around the death of former DNC staffer Seth Rich. Hannity alleged Rich had been in contact with WikiLeaks, whipping up online right-wing conspiracy theorists. And though Fox eventually retracted its story on Rich, Hannity did not back down.
Betsy DeVos refuses to say discrimination disqualifies schools for federal dollars 
In testimony Wednesday before a House committee, Education Secretary Betsy DeVos was presented with a case of a charter school in Indiana that does not allow children to attend whose parents are LGBTQ. That school receives federal funds. Yet DeVos would not say that school — or any school — should not have federal support. She said parents and states were best-equipped to decide where children should attend school; the federal government should not dictate those choices based on funding. Even when given a hypothetical of black students being denied access to a school, DeVos would not say that school should not receive federal funds.
More Trump-Russia investigation news
Former national security adviser Michael Flynn will now be hit with subpoenas from the House Intelligence Committee. That comes after he avoided a Senate subpoena by invoking the Fifth Amendment.
Meanwhile, the New York Times' latest report says Russian officials discussed how to influence the president through Flynn and former campaign chairman Paul Manafort. CNN reported that when Attorney General Jeff Sessions applied for his security clearance, he did not disclose his meetings with the Russian ambassador.
A watchdog group of former Barack Obama lawyers is suing the National Security Agency for information on how Trump allegedly tried to influence the FBI investigation into Russia.
News and insight you cannot miss:
•  Latest in Manchester: U.K. officials are no longer sharing intelligence with their counterparts following repeated leaks about the investigation by U.S. officials.
•  Sen. Majority Leader Mitch McConnell (R-Ky.) says Trump's presidency is "indistinguishable" from a Jeb Bush or Marco Rubio presidency.
•  The FBI may have been tricked, by Russia, into believing the Democratic National Committee and Hillary Clinton were meddling in the Justice Department investigation into Clinton's private email server. But it's not clear the source document was real.
•  In a new poll, 54% of American voters believe Trump is abusing his power.
•  Trump's budget would cut 3%, or $561 million, from NASA's budget — largely targeting educational programs.
•  Your latest Ben Carson-ism: Poverty is a "state of mind."
•  Mark Zuckerberg and Google are teaming up to compile better data about policing in the United States.