8 Netflix original TV shows to catch up on over Memorial Day weekend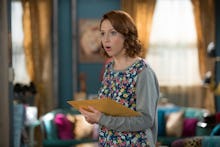 Memorial Day weekend is a time for reconnecting with friends and family, relaxing and, most importantly, catching up on TV. 
Netflix has several original series ready and waiting to be streamed over the holiday. From new seasons of favorites like the Unbreakable Kimmy Schmidt and Master of None, which were released in May, to all-new series like The Keepers, there is a lot to be watched. 
Here are the eight shows to get caught up on this Memorial Day weekend:
1. Unbreakable Kimmy Schmidt 
Kimmy Schmidt continues the journey of her new life alongside Titus, Lillian, Jacqueline and the rest of the gang. This season includes a parody of Beyoncé's Lemonade from Titus, which is enough to warrant a full day of binge-watching. There are also a ton of guest stars who stop by. 
In this seven-part series, The Keepers explores the unsolved murder of Sister Cathy Cesnik. The nun went missing on Nov. 7, 1969, and her death and disappearance remain a mystery five long decades later. The Keepers features conversations with friends of Cesnik's, fellow Baltimore residents and journalists.
3. Master of None
Aziz Ansari is back with the second season of Netflix's dramedy Master of None. In season two, Ansari's character, Dev, takes a trip to Italy to rediscover himself. On his own personal Eat, Pray, Love journey, Dev reignites his passion for life before returning home to New York to deal with his friends, family, his job and his frustrating love life. 
The mysterious world of Sense8 is back for a second season. The series picks up where season one left off and it follows the show's mysterious villain, Whispers, who is attempting to hunt down and kill the connected group of sensates. 
5. Love
Love also returned for a second season this year, continuing to follow the complicated relationship between Gus and Mickey. The pair continues to adjust to their tricky relationship and all that it entails. In season two, the Judd Apatow series explores the uncomfortable truths of being in love and all of its joy and misery. 
Beloved best friends Grace and Frankie continue to discover themselves in season three of the comedy series. In the latest season, the women pursue their business dreams by starting a company. They're going into the business of making their own vibrators and everyone else is just along for the insane ride. 
Leave it to Netflix to bring back Bill Nye in all of his educating glory. The host returns with a brand-new series on the streaming service, appropriately titled Bill Nye Saves the World. In the show, the host discusses myths, explores science and so much more. 
Spend the weekend catching up with Chelsea Handler's Netflix talk show. With guests like Melissa McCarthy, Tracee Ellis Ross and Rashida Jones, Handler tackles current topics with a mix of celebrity dish. 
Mic has ongoing TV coverage. Please follow our main TV hub here.