Overwatch' Free Weekend May 2017: Start time and end date for the event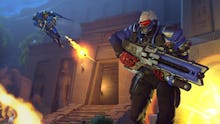 If you or a friend are on the fence about getting into Overwatch then you're in luck: Overwatch is going to be free on all platforms from May 26 to May 29. 
Like every Blizzard update, there is a specific start time depending on what region you're in, so let's break it down.
Overwatch free weekend: When the event will start and end
On May 26, the free weekend will start at 2 p.m. Eastern and will end on May 29 at 2 a.m. Eastern on Monday May 30. So the actual end date is May 29 in a few places.
For a list of specific times by each time zone, click here to visit the official site. You'll also find details about how to download the game for each console, as well as on your PC.
More Overwatch news and updates
For more on Overwatch, check out the rest of what Mic has to offer. Here is an essay about how Efi Oladele was a missed opportunity for Overwatch, a deep dive into the issue of sexual harassment in Overwatch voice chat, an unintentionally hilarious infographic showing the most popular Overwatch characters in each state, a criticism of Blizzard's failures in its design of Symmetra and a dive into a cool trend on Tumblr that converts your most-played heroes into a psychedelic illustration.