Here's a running list of how national Republicans are reacting to Gianforte's body slam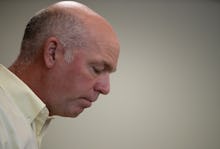 Greg Gianforte is the Republican candidate in Montana's special election to fill the state's at-large congressional seat, which was left open by President Donald Trump's Interior Secretary Ryan Zinke. 
Gianforte, who had remained a clear favorite despite his Democratic challenger pulling closer in the polls, spent most of his campaign racking up endorsements from prominent national Republicans throughout his campaign. 
But early Thursday morning, only hours before polls opened, Gianforte was charged with misdemeanor assault for reportedly body slamming a journalist during an interview in Bozeman, Montana. 
Gianforte faced widespread criticism for attacking a reporter. Three Montana newspapers, for instance, pulled their endorsements. But some of the national Republicans that endorsed Gianforte are sticking with him.
So far, most of the endorsees haven't weighed in, one Republican congressional leader is standing by Gianforte, one GOP member criticized him and two made jokes.
Here's a running list of Republicans who have reacted to Gianforte's assault.  
House Speaker Paul Ryan (R-Wisc.). Ryan has backed Gianforte's candidacy, as has the National Republican Congressional Committee. He doubled down on Thursday, saying that if Gianforte wins the election, he should be seated. 
Rep. Mark Sanford (R-S.C.) "I think people would be careful not to make him mad," the South Carolina representative said. He later issued a statement saying, "There is total weirdness out there."
Rep. Duncan Hunter (R-Calif.) "It's not appropriate behavior. Unless the reporter deserved it," the California representative said.
Sen. Steve Daines (R-Mont.). One of Montana's senators, who used to hold the seat Gianforte is running for, issued a statement saying, "I do not condone violence in any way." He also called for Gianforte to apologize.
Rep. Charlie Dent (R-Pa.) Dent, one of the House Republican conference's more moderate members, said he still needed to hear all the facts of the case, but added that Gianforte would be "welcome" in the House Republican ranks, NBC News' Alex Moe reported.
Rep. Steve Stivers (R-Ohio) Stivers, chair of the National Republican Congressional Committee — which helps protect and elect House Republicans — said Gianforte's alleged assault was "totally out of character." Stivers went up to defend Gianforte, telling Politico's Rachael Bade that, "We all make mistakes."
Emily C. Singer contributed reporting