'Destiny 2' Trading: Could we see loot and gear trades in the new game?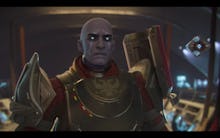 By now, hopefully there's enough excitement around Destiny 2's Crucible changes, new supers and the upcoming beta that you've forgotten — or at least somewhat blocked out — the news that all your precious Destiny gear was going bye-bye when the new game comes out.
The original Destiny was undeniably loot-based, with souped-up raiding gear becoming a main draw for the game's last update, Age of Triumph. But there's a lot we don't know about Destiny 2, and one question that fans have about the game is whether or not we'll see gear and loot trading. It's a good question, but not one that has a concrete answer yet. Here's what we know so far.
Destiny 2 Trading: What it would mean for the game
The closest thing the original Destiny had to loot trading was the ability to store items in your vault and transfer them to your other characters. Essentially, if you got a better weapon or a piece of class-specific gear, you could give it to one of your alts in order to make their trek to level 40 a little smoother. 
In an Inverse article from last year, Nicholas Bashore broke down why it would be tough to implement gear trading in a game like Destiny — because loot and grinding for it was central to Destiny's experience:
"Obviously, there are certain pieces of armor or specific weapons that out-perform others," he wrote, "and when you first start playing, those items are your end goal — you're playing Destiny to find them for your character."
Bashore argued that to add loot trading would be helpful — especially when certain raid drops elude you after weeks of play — but it's also at odds with the central conceit of Destiny, which is to collect loot to get stronger.
Destiny 2 Trading: Why we need it
Destiny drew a lot of criticism for its "loot treadmill" approach, especially in its first expansions, and although it's divisive in the community, some fans are insistent that a limited loot trading system would be great for Destiny 2. But will we see it? 
During the livestream on Bungie's Twitch channel, the development team promised that Destiny 2 would have a new and improved story that would be implemented in the game — and not in Grimoire cards. If narrative, and not loot, is at the forefront of Destiny 2, we might very well see some form of gear trading implemented. If getting more powerful gear remains a focus of the game, that's exponentially less likely.
Hopefully we'll have more insight into what's in store for Destiny 2's gear system and story — and how they'll interact — later this summer when the beta opens up.
More Destiny 2 news and updates
If you can't wait to get back out on patrol with your Fireteam, check out the rest of our coverage for Destiny 2. We've got coverage about why Bungie opted not to use dedicated servers for the sequel, why there won't be cross-play and cross-saves for PC and what you can expect from the game's PC specs and Battle.net partnership. Additionally, you can check out the new Supers being added to the game, some details behind guided games and the new Crucible changes as well. Finally, you can check out our ongoing coverage of the beta here.