8 summer books to read on the beach this Memorial Day Weekend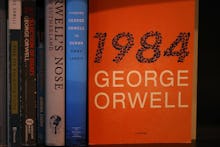 While summer will not officially begin until late June (the exact date depends on your time zone), Memorial Day Weekend has generally been understood as the unofficial start of the season. Since the last Monday in May is a federal holiday, public schools are given the day off, most offices are closed and many spend the long weekend tanning on the beach — weather permitting, of course. 
Those who are lucky enough to live in (or be traveling to) an area where the forecast calls for clear skies this Memorial Day Weekend will likely need some activities to occupy their time in the sun. For some, this may mean beach games like horseshoes (or my personal favorite: KanJam). Others may just want to plop down on a beach towel with a book and never get up — and that's perfectly acceptable. 
Book lovers have no shortage of options to occupy their time over the long weekend. But that's the problem, there are so many great choices, how could anyone ever decide what to read? Remember when there were movie rental stores and you would spend over an hour just browsing through the aisles? It's like that. So, to help the readers out, here are a few books to consider this summer before you fall asleep on the beach. 
1. Red Rising — by Pierce Brown
Red Rising is a must-read for any fan of science fiction and fantasy. Imagine taking Game of Thrones, The Hunger Games and Star Wars, throwing them in a blender and then adding the unique prose of a wildly talented up-and-coming writer. The result would be Red Rising. 
The first book in a trilogy, and a New York Times bestseller, Red Rising takes place long after humankind has left Earth to colonize faraway planets. Prior to the events within the pages, humans developed a caste system, organized by color. The Golds are the superior ruling class, while the Reds were essentially slave-workers. 
What happens when a young Red tries to rise up in this harsh world? Well, you should read to find out. And don't worry about getting hooked by the series, there are two more books in the first trilogy, and a brand new sequel series coming out in January. 
2. 1984 — by George Orwell 
Sometimes the oldies really are the goodies. Even those that have never read 1984 are probably vaguely familiar it. The book takes place in a dystopian future, ruled by an oppressive government known as the Party. The Party doesn't allow free thought or political opposition and places everyone under surveillance. 
1984 seems particularly relevant in today's political climate, where phrases like "alternative facts" have become common place. Attacks on the media (sometimes literally) could have come straight out of George Orwell's mind. And it is because 1984 "suddenly feels all too familiar" that New York Times literary critic Michiko Kakutani considers it a must-read in 2017. 
3. The Handmaid's Tale — by Margaret Atwood 
This will be the last book featuring a dsytopian future on this list — scout's honor. But with Hulu's episodic adaptation of The Handmaid's Tale currently receiving universal acclaim, it seems like a good time to draw some attention to the book that inspired the show. 
Written by Margaret Atwood, The Handmaid's Tale follows Offred, a handmaid whose sole purpose is to serve the Commander and bear his children. The Handmaid's Tale is not for everyone, but if you are planning on watching the Hulu series (or are already doing so), it makes for a good read. 
4. Bette and Joan: The Divine Feud — by Shaun Considine
How about we move from the future to the past? Long before the rivalry between Bette Davis and Joan Crawford was dramatized in FX's Feud, the story was told in Bette and Joan: The Divine Feud. Written by Shaun Considine, The Divine Feud celebrates one of the most heated rivalries in entertainment history. Considine's book hilariously outlines the feud that began with the only film the two stars ever appeared in together: What Ever Happened to Baby Jane? 
5. Rich People Problems — by Kevin Kwan
Written by bestselling author Kevin Kwan, Rich People Problems is a hilarious novel about a wealthy Asian family. Much like Kwan's previous works — Crazy Rich Asians and Crazy Rich Girlfriend — Rich People Problems packs in the laughs and is already gaining some considerable recognition. 
In a review for USA Today, author Steph Cha describes Rich People Problems as being "more farce than satire, with more flash than depth, but [delivering] exactly what it's supposed to — a memorable, laugh-out-loud Asian glitz fest that's a pure pleasure to read."
6. Into the Water — by Paula Hawkins
Sometimes what we really need is a good thriller. And Paula Hawkins knows how to captivate readers with an enthralling and suspenseful mystery. Following her psychological thriller, The Girl on the Train, Paula Hawkins is at it again with Into the Water. 
Released in May, Into the Water is yet another New York Times bestseller for Hawkins. The book is set in a town where a mysterious river has been claiming the lives of women for centuries. According to Vogue, there are already talks that Into the Water will receive a feature film adaptation. So, before it does, better pick up a copy. 
7. Same Beach, Next Year — by Dorothea Benton Frank
Perhaps the best reading for the beach is a book with "beach" in the title. And you couldn't pick one much better than this. Written by Dorothea Benton Frank, Same Beach, Next Year is a story of love and friendship and how both can grow and sustain over many years. According to Jackie Cooper of HuffPost, Same Beach, Next Year is "amazingly readable and — new word here — unputdownable." 
8. Astrophysics for People in a Hurry  — by Neil deGrasse Tyson
For those that cannot wait for the sun to go down so that they can stare up and ponder the stars, here is a book for you. Even with the sun blazing, Neil deGrasse Tyson's Astrophysics for People in a Hurry takes readers to the stars in contemplation of the entire universe. The best part about Tyson's book is that he lays out extremely complicated concepts in ways that the average reader can understand and enjoy.
Mic has ongoing coverage of book. Please follow our main books hub here.