Donald Trump launches search to find intelligence leakers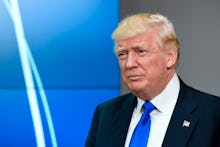 President Donald Trump on Thursday announced a Justice Department inquiry to find the people leaking sensitive and classified information to the press.
Trump's announcement of the inquiry comes after British Prime Minister Theresa May announced that Manchester police won't share information with the United States on the attack in Manchester, after information on the investigation leaked to the American media.
"The leaks of sensitive information pose a grave threat to our national security," Trump said in a statement. "I am asking the Department of Justice and other relevant agencies to launch a complete review of this matter, and if appropriate, the culprit should be prosecuted to the fullest extent of the law."
Trump has complained about leaks from his administration for months.
Congressional Republicans have pressed the intelligence community more on who leaked the information about the FBI investigation into the Trump campaign's alleged ties to Russia, rather than the fact an FBI investigation exists at all.