11 podcasts to catch up on over Memorial Day Weekend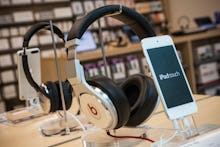 As Memorial Day Weekend approaches, many are looking forward to some extra down time to explore the podcasts buzzing at the moment. Whether traveling on a long road trip or flying to another city, there is a long list to bingelisten during the holiday. Podcasts can also be the cure if boredom strikes during a weekend with family or while sun bathing at the beach.
There's something for everyone: whether the desire is to find some laughs to escape the serious issues of the world; be inspired by personal storytelling; or catch up with the latest sports highlights. For the long-time fans of podcast culture and newbies looking for a show to start with, here are 11 podcasts to catch up on over the Memorial Day Weekend.
1. Another Round
Another Round hosts Heben Nigatu and Tracy Clayton combine their quirky sense of humor with deep dives into pop culture, race, and gender. For those looking to hear serious issues tackled with some comedic relief, this may be the one to plug into. Here are 91 episodes to catch up on.
2. Chris Hardwick's The Nerdist
Comedian Chris Hardwick teams up with his friends Jonah Ray and Matt Mira for The Nerdist, where they interview some of entertainment's biggest names. Some of their recent guests include Jordan Peele, Bill Burr and James Corden. There are 300 episodes for your listening pleasure.
3. Ted Radio Hour 
For fans of TED Talks, the TED Radio Hour is an audible outlet based on the latest contributions to the TED platform. For those who can't always watch the latest talks and would rather just listen, this podcast, hosted by Guy Raz, is a great solve. Here are 133 episodes for the curious minds.
4. The Moth Podcast
The Moth is an ongoing event that features live true stories told by real everyday people that are raw, unrehearsed and unscripted. The Moth podcast captures these stories shared by participants at The Moth events for further listening. Dig into The Moth's recent episodes and archives, exploring different sides of the human experience, going back to 1997 here. 
5. Recode Decode by Kara Swisher 
Looking to catch up on what's happening in the tech world? Kara Swisher provides in-depth analysis and interviews around trends and important people in the technology community on her podcast Recode Decode. Here are 126 episodes to get into.
6. Unsolved Murders: True Crime Stories
Unsolved Murders: True Crime Stories takes the listener on a journey through solving real cold cases. The podcast provides plot twists and turns narrated by several hosts. Many of the case stories are told in multiple parts, so listeners are advised to start from the beginning of each story to fully grasp all the facts. Check out 48 episodes of real life mystery here.
7. Red All Over: A Handmaid's Tale Podcast
Current fans of Hulu's new popular show A Handmaid's Tale may find newbies Kelly Anneken and Molly Sanchez's recaps on the show entertaining and informative. The new podcast starts off by breaking down Margaret Atwood's book, which the show is based on. In further episodes, the hosts dig into topics related to the themes presented on the show. Hear the first 12 episodes here.
8. Road Trippin' with RJ & Channing
Sports enthusiasts can tune in to Road Trippin' with Cleveland Cavaliers' players Richard Jefferson and Channing Frye. The Cleveland Cavaliers' sideline reporter Allie Clifton and Spanish radio announcer Rafael Hernandez Brito are also featured on the podcast. Beyond sports, the group also give their takes on travel, food, and more. Twenty-eight episodes are ready to cue here.
9. The Bill Simmons' Podcast
Another option for sports fans is The Bill Simmons' Podcast, which is "the most downloaded sports podcast of all time," according to the show's iTunes description. Some of Simmons' most recent guests include comedians Aziz Ansari, Bill Burr and Adam Carolla. Listen to 219 episodes of widely popular Bill Simmons' podcast here.
10. The Daily
The Daily is a 20-minute New York Times podcast hosted by Michael Barbaro. For those who have been a bit out of the loop on current events, tuning in to The Daily can get you back on track with the important facts and breakdowns on the world's top stories. Hear the first 84 episodes of The Daily here.  
11. Black on Air with Larry Wilmore
Larry Wilmore is back on air with Black on Air, his new podcast. The Emmy-winning comedian, producer and writer left late-night TV after The Nightly Show was canceled in August 2016. On Black on Air, Wilmore discusses an array of topics, from pop culture to politics, and is open to engaging with his audience's suggestions on the show. So far, Wilmore has sat down with legendary television writer Norman Lear, Senator Bernie Sanders and astrophysicist Neil deGrasse Tyson. Check out the first three episodes of Black on Air here.
Mic has ongoing arts coverage. Please follow our arts hub here.