Here's a running list of advertisers who have abandoned Sean Hannity's Fox News show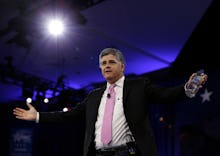 Fox News host Sean Hannity has lost several advertisers on his primetime program after promoting a debunked conspiracy theory, including the classifieds site Cars.com and the mattress companies Casper and Leesa Sleep. 
An online campaign calling for advertisers to drop Hannity's show or face a consumer boycott sprung into motion after Hannity promoted a conspiracy theory about the death of a former Democratic National Committee staffer. Hannity continued to push the story, briefly, even after Fox News retracted a now-discredited article advancing the theory and after the staffer's family  begged for Hannity to stop. The conservative show host has since backed off the story — "for now," he announced Tuesday. 
Many of Hannity's fans have threatened to counter-boycott companies who pull advertising from the program.  
On Tuesday, the financial services company USAA announced that it had reinstated advertising on the program pending a review of its company policies. The company, which said last week that it would no longer run ads on Hannity's program due to its policy, told the Associated Press it had received numerous complaints and requests from Hannity fans who are USAA customers. 
Here's a running list of the advertisers who have decided to leave Hannity's program. Mic has reached out to more than 50 advertisers on Hannity's program, and we will continue to update this list as more information becomes available. 
Cars.com 
"We don't have the ability to influence content at the time we make our advertising purchase," a Cars.com spokesperson told Mic in a statement. "In this case, we've been watching closely and have recently made the decision to pull our advertising from Hannity." 
Casper
"We have reviewed our programmatic television media strategy with our agency partners and reassigned this allocation," a Casper spokesperson told Mic. 
Peloton 
The bike company and cycling studio tweeted Wednesday that it had directed its media buyers to stop advertising on the program. That tweet has since been deleted. 
Leesa Mattress
A spokesperson for Leesa confirmed the company was removing its advertisements from Hannity's program. 
Ring 
"As of May 23, we have asked our media buying partners not to place Ring ads on the Sean Hannity show," the company told BuzzFeed. 
Crowne Plaza Hotels
A spokesperson for the hotel chain told Mic that an ad running on Hannity's program earlier this month was a mistake, and that the company did not normally run advertisements on Hannity's show or shows like his. 
"We have a specific 'do not advertise' list for this type of programming," the hotel chain said in a statement. "Unfortunately, our expectation to adhere to this list was not met by a third-party agency. Since we learned of the airings, we addressed the issue immediately and terminated our relationship with the agency. We have no plans to advertise on Fox News for the foreseeable future." 
May 30, 2017, 6:04 p.m.: This story has been updated to include information about USAA reinstating its advertising on Hannity's program.