Montana election results: Gianforte wins, apologizes for alleged assault on reporter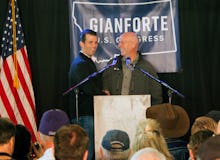 Republican Greg Gianforte won a special election to Montana's at-large House seat Thursday, defeating Democrat Rob Quist by a slim but comfortable margin.
Gianforte's win comes a day after he was charged with assaulting Guardian reporter Ben Jacobs at a campaign event, allegedly body slamming Jacobs for asking a question about the GOP health care plan. 
While Gianforte's alleged assault blew up in the press and social media, the incident came too late to swing the race to Quist.
With his win, Gianforte will replace Ryan Zinke, who held the seat until he left to be secretary of the interior.
12:52 a.m.: Gianforte uses acceptance speech to apologize to Guardian reporter
During his acceptance speech, Gianforte apologized to the Guardian reporter who he was charged with assaulting.
And when you make a mistake, you have to own up to it. That's the Montana way. Last night, I made a mistake and I took an action that I can't take back and I'm not proud of what happened. I should not have responded in the way that I did and for that I am sorry. I should not have treated that reporter that way and for that I am sorry, Mr. Ben Jacobs. I also want to apologize to the Fox News team that was there. And I'm sorry to each one of you that we had to go through this. That is not the person that I am, and it's not the way I'll lead in this state.
Gianforte also thanked his wife for driving more than 80,000 miles with him around the state during his campaign before noting that the victory is for Montana's "coal and timber families," for farmers, ranchers and "for our men and women in uniform." He added, "We won a victory for our Montana seniors and we won a victory for our second amendment"
— Megan Carpentier and Stacey Leasca
12:38 a.m.: Gianforte wins
Greg Gianforte has won Montana's special election for the state's at-large congressional district according to projections by multiple news outlets.
— Andrew Joyce
12:30 a.m.: Gianforte continues his lead
With more than 300,000 votes counted in Montana, Gianforte lead stretches to 160,870 votes to Quist's 138,257 with more than 41% of precincts reporting.
— Stacey Leasca
12:00 a.m.: Gianforte's lead grows
Two hours after the polls closed in Montana, Gianforte leads Quist by nearly 23,000 votes with nearly 60% of votes counted. Gianforte is carrying the race with 138,389 votes to Quist's 115,946.
Still no results from several counties, including Park County where Gianforte lost the 2016 governor's race by 2,000 votes.
— Stacey Leasca
11:51: A Montana NBC affiliate refused to cover the Gianforte body slam
New York magazine reports that the Missoula NBC affiliate, KECI, refused to cover the story of Greg Gianforte allegedly body slamming Guardian reporter Ben Jacobs. KECI news director Julie Weindel was reportedly contacted by NBC News to ask if her affiliate had any footage that the network could use to cover the story; national networks often rely on local affiliates for footage of regional stories. Weindel reportedly insisted that KECI would not share any footage it might have and that was not covering the story because "the person that tweeted and was allegedly body slammed is a reporter for a politically biased publication." She then is said to have added "you are on your own for this."
Weindel told New York that her remarks were "taken out of context" and added that her network was eventually able to confirm and "aggressively report the facts of the story, the investigation and the assault citation base on the sheriff's information and press conference which we covered and sent in it's entirely to NBC and MSNBC immediately." 
— Andrew Joyce
11:30: Gianforte's lead continues to grow
Gianforte's lead continues to expand with 112,259 votes to Quist's 100,821. Though, as Montana political reporter Chuck Johnson noted on Twitter, "Native American precincts' voting totals are often late reporting. They could help Quist in a tight election."
Johnson additionally noted that Silver Bow County, a Democratic stronghold, has not delivered its votes yet as well. 
— Stacey Leasca
11:10: Gianforte with a slim lead but many results to come
One hour after the polls closed with 26% of precincts reporting Gianforte has a slim lead. Much remains to be seen with nearly half the votes still out in large population centers like Missoula and Yellowstone counties. No returns yet from Silver Bow county, one of the state's most reliable Democratic strongholds. In 2016, Clinton won Silver Bow county by a little less than the margin Quist is currently trailing by. 
— Andrew Joyce 
10:59 p.m.: Strong showing for the Libertarian candidate could spell trouble for Gianforte
With 25% of precincts reporting Libertarian candidate Mark Wicks has nearly 6% of the vote. That could be a bad sign for Greg Gianforte who Wicks may be pulling votes away from. The race between Gianforte and Quist remains tight with Gianforte leading by two points. 
— Andrew Joyce
10:51 p.m.: Large voter turnout expected in Montana
According to Billings Gazette reporter Holly Michels, an estimated 400,000 votes are expected to come in for Montana's special election. There are 700,415 registered voters in the state, according to Michels.
According to the 2016 U.S. census, Montana has a total population of 1,042,520.
— Stacey Leasca
10:25 p.m.: Polls are closed in Montana
Polls are officially closed in Montana's special election race, but if you are reading and are in line to vote, stay there! Anyone who was in line to vote before 8 p.m. MDT will still be able to cast a vote. Early results show Rob Quist with a slim lead over Greg Gianforte. Those results are based mostly on absentee votes that were cast before Gianforte's alleged assault along with some early precincts where voters made the decision after the incident.
In left-leaning Missoula County, Rob Quist is ahead by about 9,000 votes.
Same-day registration numbers show that 2,084 people registered to vote on election day. That's about a quarter of the number of people who registered on election day in 2012, when Barack Obama was on the ballot.
— Andrew Joyce
10:00 p.m.: Long voting lines continue in Browning
Residents of Browning, a town in Glacier County, Montana, and the hub of the Blackfeet Indian Reservation, shared on social media that the lines to cast a ballot are still more than an hour long, according to Montana Native Vote. 
The area, Montana Native Vote tweeted, has a history of voter suppression. In 2014, Montana Secretary of State Linda McCulloch implemented "ballot on demand" technology, according to Indian Country Today, which allowed residents to go to Browning for late registration and in-person absentee vote two days per week within the 30 days prior to a national election. The system came one week after attorneys threatened a voting-rights lawsuit at the behest of the tribe.
— Stacey Leasca
9:57 p.m.: Scenes from around the state
— Andrew Joyce
8:43 p.m.: Gianforte campaign reportedly turning away press from their events.
Several journalists have reported being turned away from Gianforte's campaign events.
Buzzfeed's Blake Montgomery reported being turned away at first before later being granted a credential.
Derek Brouwer, a reporter for the Missoula Independent also reported being turned away from a Gianforte field office.
— Andrew Joyce
4:45 p.m.: Sheriff holds press conference on Gianforte's assault charge
Gallatin County Sheriff Brian Gootkin held a news conference Thursday afternoon to discuss the status of Gianforte's assault case.
Gootkin gave his reasoning behind not arresting Gianforte Wednesday night, after the alleged assault took place.
"There is no existing circumstance that required immediate arrest, no threat to the public safety," Gootkin said at the news conference, according to Politico's Gabriel Debenedetti.
Gootkin added that there was enough evidence to warrant misdemeanor assault charges and that the case has been turned over to the Gallatin County attorney's office.
Gootkin didn't address the discrepancy between Gianforte's campaign's account of the incident Wednesday night and the audio and witness account from Fox News reporters, according to Bozeman Daily Chronicle reporter Whitney Bermes.
The news conference came less than six hours before polls close in Montana.