'Overwatch' End of Season Rewards: What you get for playing in season 4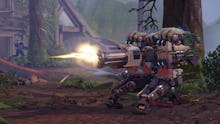 The end of season 4 for Overwatch competitive is just around the corner. In the off season, you can reflect on your great victories, your worst losses and your plan for next season.
While you're collecting the new skins for the Anniversary event, you can also reflect on the rewards you got for participating in the competitive season. If you're unsure about what you should be getting, here's what to expect.
Overwatch end of season 4 rewards
There are a couple things you get from participating in competitive. You will get competitive points, which are saved to purchase golden weapons, that correspond to whichever rank you made it to:
Bronze — 100
In addition, you'll receive a spray and player icon that are specific to season 4 participants. This season, the spray and icon include a beautiful illustration of a cherry blossom tree in Hanamura. 
More Overwatch news and updates
For more on Overwatch, check out the rest of what Mic has to offer. Here is an essay about how Efi Oladele was a missed opportunity for Overwatch, a deep dive into the issue of sexual harassment in Overwatch voice chat, an unintentionally hilarious infographic showing the most popular Overwatch characters in each state, a criticism of Blizzard's failures in its design of Symmetra and a dive into a cool trend on Tumblr that converts your most-played heroes into a psychedelic illustration.