How to restart 'Clash of Clans': Guide for deleting your entire village to reset the game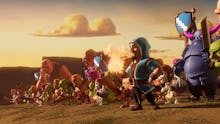 Many Clash of Clans players are focused on making their new builder base as defensible as possible right now. However, maybe you want to wipe the slate clean and start over. Unfortunately, Supercell doesn't make that particularly easy or convenient.
Clash of Clans Reset: How to restart your village
There's definitely value in starting fresh after accumulating some knowledge of how best to go about things. Sadly, it's not super easy to do this in Clash of Clans.
As per Supercell's support website, Clash of Clans wasn't designed with quitting and restarting in mind. On iOS, your village is tied to your Game Center account, so you'll have to log in with a different Game Center account or download the game on a new device. You could also factory reset your device, but that might be overkill. 
On Android, you can reinstall the application but, again, your village is tied to your Google Play account. If you use Google Play to log into Clash of Clans, you'll have to use a different account to start over. 
In short, yes, it can be done, but restarting in Clash of Clans seems to be against the spirit of how Supercell wants people to play the game. You might have to just stick it out and rearrange your village for better results.
More gaming news and updates
Check out the latest from Mic, including our list of video games that made fun  of their players, a personal essay about dealing with anxiety through Breath of the Wild, a look at the racist and sexist experiences in eSports and a plea for better character customization options for black characters.