Watch Donald Trump appear to push a world leader at the NATO summit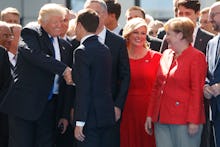 President Donald Trump appeared to push a leader of a NATO country out of the way on Thursday. 
The incident came as the world leaders of NATO countries met in Brussels at NATO's headquarters. The leaders were getting ready to pose for a group shot, when Trump shoved his way past another leader of one of the 28 member countries.
Trump's shoving of one of the NATO leaders came after he publicly criticized 23 of the 28 nations, alleging that they are not paying their fair share into the alliance. The alliance of the 28 nations pledges to defend other member countries, should they fall under attack.
The leaders appeared to scowl and laugh as Trump criticized them.
Recently elected French President Emmanuel Macron can be seen trying to stifle laughter as Trump criticized the NATO leaders.