'Injustice 2' Static Shock: Electric teen character designed and then cut from fighting game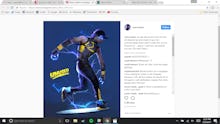 Injustice 2 has an impressive roster of DC Comics superheroes, both iconic and obscure — but thanks to an Instagram post from the game's character designer, we know one electrifying hero who didn't make the cut.
Injustice 2 Static Shock: Fighter designed and then cut
This comes from the Instagram account of Marco Nelor, who designed the characters for Injustice 2.
Virgil Hawkins, the electric superhero otherwise known as Static, was designed in Injustice 2's art style before being scrapped for unknown reasons. This is a disappointment to fans of both the comics and the old Static Shock  cartoon series.
As PVP Live pointed out, Injustice 2 already has the teen market cornered with characters like Blue Beetle and Firestorm. Aside from that, Black Adam fills the lightning-powers niche on the main roster, and Mortal Kombat's Raiden is coming as DLC.
An unfortunate reality of game development is that there are only so many fun attack animations you can make with lightning in one game. It's likely Static was just one of many DC Comics favorites who didn't make the cut. There are still plenty of great characters to duke it out with, so don't let this discourage you from trying out Injustice 2.
More gaming news and updates
Check out the latest from Mic, including our list of video games that made fun of their players, a personal essay about dealing with anxiety through Breath of the Wild, a look at the racist and sexist experiences in eSports and a plea for better character customization options for black characters.