Athens Explosion: Former Greek prime minister possible target of bomb attack, police say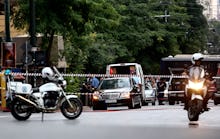 A bomb exploded inside the car of former Greek Prime Minister Lucas Papademos on Thursday evening, the BBC reported. 
NBC News confirmed that Papademos, his driver and a security officer were injured and are being treated at a hospital in Athens. None of the injuries are reportedly life-threatening.
A statement by Evangelismos Hospital, reported by Al Jazeera, says Papademos sustained "several superficial wounds on his chest, abdomen and thighs." The driver and security officer's wounds were "light superficial injuries," and the statement calls their hospital stay "precautionary."
Hellenic police said the explosive device was hidden inside an envelope given to Papademos, according to NBC News.
Police believe it is too early to identify a suspect, but NBC News notes that the bombing follows a pattern of economy-based parcel bombing in March.
Papademos is viewed as a " symbol of the austerity movement in Greece," according to NBC News, which also noted his previous roles as vice president of the European Central Bank and governor of the Bank of Greece.