'RuPaul's Drag Race' Season 9 Theories: Putting the Valentina conspiracy rumors to rest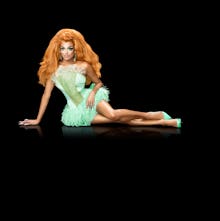 In the wake of one of the most shocking eliminations in RuPaul's Drag Race herstory, fans are scrambling for some explanation — any explanation, really — as to what happened.
(Editor's note: Spoilers ahead for the ninth episode of RuPaul's Drag Race season nine.)
Upon her first trip to the bottom two, and thus having to lip sync for her life, Los Angeles-based queen Valentina refused a direct order from host RuPaul. She didn't want to take off the mask she was wearing for the club kid runway challenge, and asked if she could keep it on. The resulting read from Ru — "It's a lip sync; what part of that do you not understand?" — and stare-down made for legendary television.
Then, after removing her mask, Valentina revealed she didn't know the words to Ariana Grande's "Greedy." The resulting poor performance sent her home, with Ru lamenting that she thought Valentina "had the stuff to go all the way."
To say that fans have been awash with emotion about Valentina's elimination would be an understatement. YouTube is filled with reactions, from both fans and fellow queens, to the shocking twist. So it's natural that the next step would be rampant theory-mongering.
The theories in question range from the jokes — it wasn't Valentina at all! — to the more serious-minded — Valentina wanted to get eliminated so she could come back for the inevitable All Stars season three. One particular theory, floated by former Project Runway contestant Sam Donovan, asserts that Valentina wanted to get eliminated because of the potential career boost.
It's easy to understand why fans are desperately seeking another explanation for what happened in Valentina and her co-competitor Nina Bo'Nina Brown's lip sync. There's a lack of solid information, particularly because Valentina keeps insisting she was in "a state of shock" during filming and isn't offering up a concrete explanation.
But as understandable as the theorizing is, it's essentially just wheel-spinning as fans come to terms with a sad truth: Valentina was unprepared for the lip sync, was thrown off her game and failed to perform at the level she did prior.
Valentina is hardly the first strong queen to get thrown by one bad challenge performance and fail to turn it out in the lip sync. In season seven, Max won two challenges before turning in a disastrous Sharon Needles impersonation in Snatch Game and going home after the lip sync. Lineysha Sparx, a strong queen from season five, similarly slipped up during Snatch Game and found herself on the wrong end of Detox's legendary lip sync skill. 
Way back in season two, Pandora Boxx, a queen who consistently performed well, fell into the bottom two during the top five's makeover challenge and was sent home by Jujubee, one of Drag Race's all-time best lip syncers. At the time, Entertainment Weekly called it "the season's most controversial elimination."
It's always difficult to accept, but the strongest queens can and often do have terrible days on Drag Race. Valentina's elimination was not some grand conspiracy. There was almost certainly not a greater story happening behind the scenes. It was a misstep that came at exactly the wrong time.
Still, All Stars does likely lie ahead for Valentina. You can expect that this time, she'll know her damn lyrics.
The next episode of RuPaul's Drag Race airs Friday at 8 p.m. Eastern on VH1.
Mic has ongoing RuPaul's Drag Race coverage. Follow our RuPaul's Drag Race main hub.