Men are calling reverse sexism on an all-women screening of 'Wonder Woman'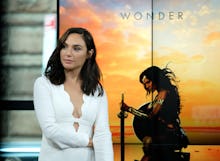 In homage to DC Comic's foremost female superhero, an Austin, Texas, movie theater is trying to recreate something of Paradise Island's feminist utopia with two all-women Wonder Woman screenings. 
But not if men have it their way.
Without delay or sense of irony — the men of the internet are kicking up a fuss about the theater's women-only showings on its Facebook page.
"Very tacky, Alamo," wrote one Allan Dale. "I'm all for equality, and having a screening specifically stating it is not inclusive to everyone is against equality."
Other men couldn't help but see a glaring — and perhaps even oppressive! — double standard: Alamo Drafthouse would never host a men-only movie screening. 
"Could you imagine the anger and outrage from the liberal staff of Alamo if Trump held an all-male screening at the White House or even if another theater did an all-male screening?!" Bradley Lucio wrote. 
Another user, Tony Lee, agreed, writing, "Imagine the shitstorm if there was any male-only showing of anything... or a private showing for a specific race or sexual orientation." 
He added, "Nah, it's SJW approved."
The Alamo Drafthouse staff hardly had anything insidious in mind when they organized the first showing, which sold out in mere hours.
"We asked ourselves, 'How do we create a land of Amazonian women? Well — we just hold a women's only screening!'" creative manager Morgan Hendrix told local outlet KVUE. "After all, she lives on a women's only island and comes from a land of women. This makes perfect sense."
Despite the kerfuffle, the theater isn't backing down. In addition to adding a second Austin screening, Alamo Drafthouse wrote on Facebook that the theater might add other women-only screenings of Wonder Woman to its New York locations. 
And as for any men's rights trolls who show up IRL to the screenings?
"Our plan?" Alamo Drafthouse wrote on Facebook. "We'll have the hardest-working, baddest-ass staff possible on deck."