'MLB the Show 17': 5 tips for building an effective Road to the Show player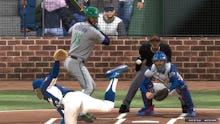 Road to the Show in MLB the Show 17 has a storyline this year, but don't let that distract you from constructing a sound plan for building a beastly character.
MLB the Show 17 Road to the Show tips: Who do you want to be?
Asking yourself who you want to be is very important question at the outset of your RTTS journey. Do you want to be a speedster like the Cincinnati Reds' Billy Hamilton, or a masher like the New York Yankees' Aaron Judge?
Once you know, choose your starter attributes accordingly. Go big on power if that's your objective, or do the same for speed if that's where you plan to make your mark.
MLB the Show 17 Road to the Show tips: Set a payday
You could upgrade your player after every game, but it's pointless — you'll see very minimal improvement. Instead, set an upgrade payday for your player.
Whether it's after every five games or at the conclusion of two in-game weeks, do only scheduled upgrades. It adds consistency and also gives you time to accumulate enough training points to make an impact on your player.
MLB the Show 17 Road to the Show tips: Set a primary focus
Now that you know what your player profile will be, you should pick an attribute for your primary focus as you use the earned training points to improve your character.
If speed is your game, use as many of your training points to level up that skill. You'll quickly max out and can then set another area of focus.
MLB the Show 17 Road to the Show tips: Set a secondary focus
Sometimes, you'll have leftover training points after adding to your primary focus area. As you continue to increase the value of any skill, upgrades get more expensive.
For example, upgrading power hitting against right-handed pitchers might ultimately cost 115 training points. If you began the upgrade period with 200, you can only add to that category once, but you'll have 85 training points left.
Use those points on your secondary focus area. If you still don't have enough points to upgrade there, just roll it over into your next RTTS upgrade.
MLB the Show 17 Road to the Show tips: Play to your strengths
It's very important to work with your style of preferred play. If you're building a speed guy, then do your best to hit the ball on the ground. It'll put you in a position to earn infield hits and to get on base where you can use your legs to steal. Likewise, if you're a power hitter, use the aggressive swing to get the ball in the air more often.
There are several different player profiles to explore, but following this system is helpful in building a player who can become a five-tool star while still being effective on his way up the ladder.
More sports gaming news and updates
Love sports games? Check out more content from Mic, including tips for leveling up your NBA 2K17 MyPlayer, playing quarterback in Madden 17, our review of MLB the Show 17 and the classic Nintendo sports games we want to see on the Switch.