Is your Snapchat account locked?
Here's how to unlock it and get back in.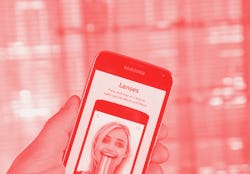 The thing about social media apps like Snapchat and TikTok is, the best posts tend to be the ones that are very of the moment. They capitalize on trending sounds, conversations, or news — and the window to do so can be quite small. That said, it's wildly frustrating when you have an idea for a Snapchat post, for example, only to find that you're locked out of your account. And if you're facing a Snapchat locked account, it's understandable that you want to rectify it as quickly as possible so as not to lose momentum (or just not get too behind on any new content, or break your Snapstreak).
There are plenty of possible reasons why Snapchat locked you out. But what are they and, more importantly, how do you get the powers that be at Snapchat.com to unlock your account? Let's identify the root issue and resolve it.
Why is your Snapchat account locked?
Your first step in getting Snapchat to unlock your account: Figuring out why it was locked in the first place. According to the Snapchat support page, here are some common reasons for a Snapchat locked account:
You've added too many friends without having verified your email or phone number. The app detects this as "suspicious activity."
You've engaged in abusive behavior, such as sending spam or violating Snapchat's Community Guidelines. Among the no-nos on Snapchat are posting sexually explicit content; harassing or bullying others (even people not on the app — like, for example, people whose information or pictures you shared without consent); threatening or encouraging violence; impersonating others, spreading misinformation, or posting other deceptive or manipulated content; promoting or participating in illegal activity; and posting hate speech or other extremist content.
You're using an unauthorized third-party app or plug-in to access or use Snapchat. It may be tempting to get some extra functionality through apps like Snapchat++ or SnapTools, but doing so could make your account vulnerable to hackers — and it can lead Snapchat to lock you out of your account altogether.
You're trying to log in from a banned device. If your account was previously terminated by Snapchat for violating the app's Terms of Service or Community Guidelines in a "serious case," you may not be allowed to simply create a new account and log in using the same device. Snapchat will ban the device completely.
You've been hacked — or Snapchat believes you have been. If you can't access your account and you haven't violated any rules that warrant a locked account, you may have been hacked and not locked out. Some telltale signs that your Snapchat account was hacked include spam sent from your account, prompts to keep logging in, contacts added without your knowledge or permission, a changed phone number or email associated with your account, and receiving notifications that someone has logged in with a different device. It's also possible that Snapchat picked up on some suspicious activity (like the aforementioned) and locked your account as a safety measure.
How to unlock your Snapchat account
Snapchat accounts can be locked temporarily or permanently; if your account was locked permanently (such as in the case of repeated violations), you're out of luck. Snapchat won't unlock your account But, if Snapchat sent you a message saying your account is temporarily locked, you should wait 24 hours before attempting to log in. If you can't get in for a longer stretch of time, Snapchat advises trying to unlock your account by visiting this link.
If the issue was that your account may have been compromised (read: hacked), complete this Snapchat support form.
How to prevent a Snapchat locked account
Before you try to get your Snapchat account unlocked — and after you're back in, for that matter — make sure you check out those reasons Snapchat may have locked you out and resolve any issues. For example, if you've installed an unauthorized third-party app, plug-in, or tweak, be sure to get rid of it before attempting to unlock your account. Snapchat also advises changing your password after uninstalling. Should you fail to uninstall — or repeatedly violate the app's rules in the future — your Snapchat account could be permanently locked. Who'll save your Snapstreaks then? Nobody.
In the case of hacking, Snapchat recommends immediately changing your password, verifying the email address and mobile number associated with your account, and enabling the app's two-factor authentication, called Login Verification. Even if you don't think your account was hacked, this is a good opportunity to make sure everything is secure and up-to-date — after all, if you proactively protect your account, you're less likely to run into a Snapchat locked account right when you're ready to post your best content yet.