Why is everyone traveling to Iceland?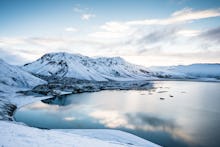 There's a reason why it feels like everyone you know is going to Iceland: The country's traveler count has grown steadily each year since 2010. In fact, the first three months of 2017 have already charted a 54% increase in traveler traffic from the previous winter.
The island nation dazzles with its mix of apocalyptic landscapes and cool cafes emblazoned with Helvetica. But lately, the conversation about the country's ever-trending appeal is shifting away from its virtues and toward a more cautionary tale of overexposure.
With only 330,000 inhabitants, Iceland is expected to receive upward of 2 million visitors this year, according to the Iceland Review. This poses a palpable threat to the pristine nature and distinct cultural traits that have made Iceland so beloved and unique. Mom-and-pop shops are morphing into kitschy Viking souvenir stalls, and the impact of the crowds is literally chipping away at the island's crumbly lava drifts and their delicate ecosystem of arctic flowers and ochre lichen. 
Iceland in the international spotlight
How did Iceland — especially its capital, Reykjavik — become such a hot commodity in the first place? Local marketing pundits and the tourism authority have played a large role, but in reality the country's heightened profile is the perfect storm of intangible factors.
Iceland's first big-bang moment was its banking collapse during the global economic crisis at the end of 2008. Word quickly spread of the rampant over-borrowing and rapid devaluation of the local currency. Suddenly, a destination that used to be prohibitively expensive for most was accessible at bargain-basement prices. And while the air access wasn't as expansive as it is today, the free layover program was already in place and the exceedingly cheap local prices more than made up for any connection lags.
The only problem was that in 2008, travelers were experiencing budgetary setbacks of their own, and international travel on the whole slowed.
Two and a half years later, the Eyjafjallajökull volcano erupted and canceled hundreds of flights with its plumes of ash. And as hundreds of news anchors around the world fumbled over the pronunciation of the volcano's name, beautiful b-roll ran in the background of stark yet eerily beautiful fjords glittering under a halo of smoking cinders.
Like a travel ad for Iceland flashing across every major news channel, the accidental messaging sparked an unabated interest in the destination. Iceland was also featured as the backdrop for a spate of television shows and films: Game of Thrones, Prometheus, Noah and The Secret Life of Walter Mitty, to name a few.
The increase in exposure led to a conversation among hipster jetsetters about the local culture and its music scene. The country was also poised to be some kind of progressive utopia — lesbian prime minister! — whose longstanding geothermal energy practices were setting the standard in a world faced with the serious threat of climate change.
The recipe for Iceland's massive exposure was also underpinned by the efforts of 80-year-old Icelandair. The airline pioneered the concept of a free layover — born from a necessity to refuel transatlantic flights during the 1950s — and by undercutting prices for direct flights between continents, it started its own chain of events leading to further growth.
The idea behind the stopover scheme, Icelandair marketing manager Michael Raucheisen said via email, is "to get a small taste of what Iceland has to offer and [to] entice travelers to return." Whether or not these tourists come back has become secondary to the wave of word-of-mouth buzz created by their shared stories and photos.
To maintain its grip on the inbound market in light of the more recent addition of local low-cost carrier WOW Air, Icelandair now offers airfare at such a cut rate when compared to direct transcontinental flights that it's often possible to find flights for less than the cost of an Amtrak ticket from New York to Washington, D.C.
And while Icelandair's layover formula has led to an increase in traveler numbers, it's also programmed American travelers to think of the country as the perfect short-trip destination.
It's not.
How to visit Iceland responsibly — and avoid the crowds
"There's something intangible about Iceland," Sigurdur Sveinnson, cofounder of small-group adventure operator Midgard Adventure, said in an email interview. Born and raised in Hvolsvollur, Iceland, around two hours outside of Reykjavik, Sveinnson has been leading trips through his backyard for the better part of a decade. "It's a mystical place — even the name Iceland sounds magical — and once people do a little research and break away from the tourist circuit, they'll discover that it's so much more than just a place of incredible beauty," Sveinnson said.
Not all of us have the luxury of time to hike past every cairn and waterfall, but short-stay visitors can still carve out a deeply personal experience despite the onslaught of crowds.
First, avoid Reykjavik as much as possible. Yes, you've probably heard it's full of cool cafes and fun bars, but so is Brooklyn. The international airport isn't even in the capital — you can make a beeline to the island's south coast and base yourself there for a few days of uninterrupted trekking right from your doorstep. If it's the social element you crave, you'll have a much greater chance of befriending a local in one of the country's tertiary towns than you will in the heart of Reykjavik.
Second, the Golden Circle is a construct. Not to be confused with the Ring Road — the road that loops around the entirety of the island — the Golden Circle is a circuit that takes in a few geological and historical items of moderate interest within reasonable proximity to Reykjavik. None of the items featured on a Golden Circle tour should be considered a must-see; there are plenty of other waterfalls, fissures and volcanic crags in other parts of the country that are just as impressive.
If you're keen to tackle a small driving loop, consider winding your way up to western Iceland's Snaefellsnes peninsula, about two hours north of Reykjavik. You'll find hidden hot springs, craggy hikes, townships filled with old homes, and a rich Viking history of treachery and exploration. It's believed Columbus stopped here for navigational intel before making his way to the Americas.
There are also hundreds of warm water sources throughout the nation. Go beyond the standard alternatives to Blue Lagoon and take a dip in some of the country's municipal swimming spots, like the geometric Jacuzzis in faraway Drangsnes or the pool at Lysuholslaug in the west, the latter of which bubbles up with naturally carbonated waters.
The country's well-maintained roads are ideal for a road trip that can take you miles away from the parade of tour buses. There are plenty of accommodations beyond the capital, too — many in charmingly refurbished farmhouses — and are the perfect choice for a less expensive and less crowded adventure base, set directly within those dramatic landscapes you've been coveting on Instagram or Game of Thrones.