Florida congressman is the latest to introduce bill calling on Trump to pay for his trips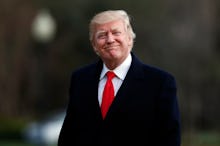 Should President Donald Trump be forced to cover the costs associated with his frequent trips to properties he owns?
Some Democratic lawmakers think so.
Rep. Alcee Hastings (D-Fla.), whose district includes part of Palm Beach County, where the president's Mar-a-Lago resort is located, introduced a bill on Wednesday that would require Trump to pay for his trips, which he's dubbed the Taxpayers Require Urgent Mandatory Protection from Egregious Debt Act of 2017, or TRUMPED Act.
"It is offensive that President Trump insists on a budget that unequivocally, and without mercy, attacks hardworking Americans, and then has the audacity to turn around and insist that our local police officers, first responders and small businesses suffer under his insistence that he be allowed to enjoy a lavish life style at taxpayer expense," Hastings said in a statement.
Under the TRUMPED Act, anyone under secret service protection spending more than 24 hours at a property they own would be responsible for costs incurred by local governments and businesses.
The bill — not expected to pass — comes on the heels of a similar proposal by Rep. Ted Lieu (D-Calif.), who just a week earlier introduced the Stop Waste and Misuse by the President Act.
The SWAMP Act, a nod to Trump's promise to "drain the swamp," would require Trump to pay the government back for any costs associated with his trips to properties he owns or has a financial interest in. 
The cost to secure the president and his family during his first month in office was close to what former President Barack Obama averaged in a year of his presidency.
Trump's trips to Mar-a-Lago and other properties he owns have been criticized for the impact they have on the communities where they're located — and for possibly allowing Trump to profit off the presidency. 
Protecting Trump on his visits to Mar-a-Lago have cost Palm Beach County an estimated $4 million so far, according to the Sun-Sentinel, and local businesses have said they have lost revenue. 
According to Hastings, his office has received a number of calls from residents concerned with the frequent trips.
"His constant use of his own property is padding his own pockets with taxpayer money, while significantly harming local businesses and straining primary law enforcement agencies to the brink," Hastings said in the statement.
Earlier this month, Congress appropriated $60 million to reimburse communities — including Palm Beach County and New York City, where first lady Melania Trump has been living — that have had to pay "extraordinary costs" to protect the president. 
Mar-a-Lago has also been a subject of scrutiny over Trump's potential conflicts of interest. After Trump's election, the private resort doubled its initiation fee from $100,000 to $200,000. The State Department has also promoted the Florida club on its websites. 
In March, Democrats introduced a bill that would require Trump to keep a log disclosing who visits the resort and other Trump properties. They called it the Making Access Records Available to Lead American Government Openness Act, or the MAR-A-LAGO Act for short.