'The Bachelorette' 2017 Episode 2 Spoilers: Which contestant has a girlfriend?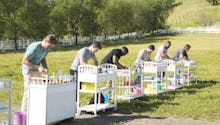 Bachelorette star Rachel Lindsay is "anxious" and "scared" — and so are we. 
Episode two ended with a cliffhanger, and one man was sent packing early. What the hell happened? We're breaking it down.
Who is "husband material"?
Rachel is looking for someone who is "husband material." Who is that special guy? Hollywood power couple — and Bachelorette super fans — Mila Kunis and Ashton Kutcher join Rachel for the first group date to help weed out the studs from the duds.
Fred, Kenny, Lucas, Jonathan, Dean, Iggy, Blake and Jack compete in a "husband material" challenge that requires them to change a baby diaper, unclog a sink drain, vacuum and more. Mila Kunis chases the guys across the field, yelling at them to head to the "dog house" when they fail to complete parts of the obstacle course. It's a hilarious mess that ultimately comes down to Kenny and Lucas. The two men race to the finish line but Lucas wins after giving Kenny the stiff arm. 
"I'm husband material," Lucas yells as he throws a baby doll to the ground. Even Ashton Kutcher and Mila Kunis seem annoyed and confused by "Whaboom" guy.
The post-challenge cocktail hour is a bit of a dud for Rachel. She complains about not getting the "romantic aspect" from any of the men. She's struggling to get past childhood summer camp memories with Fred and has to listen to Blake complain about Lucas being on the show for fame. But then Dean sits down with her and the two share an immediate connection.
Although some fans might have been skeptical after Dean's "ready to go black" comment from the After the Final Rose special, the pair actually have a spark. He scores the group date rose and the two kiss outside.
Copper's two-on-one
Copper — or, rather, Peter — lands the first one-on-one date of season 13. Copper is Rachel's dog, and honestly we could have watched an entire episode of her skipping around with her broken leg. 
Copper joins Rachel and Peter on their date in Palm Springs, California, where they attend BarkFest. Dogs sunbathe on pool floats and frolic in the grass in what can only be described as doggie heaven. 
Other than Copper it's a pretty boring date. But Rachel seems to be interested in Peter and she gives him the date rose.
Meet the girlfriend
Will, Jamey, Alex, Adam, Lee, Matt, Eric Josiah, DeMario and Diggy join Rachel for the second group date of episode two. The guys head over to a gym where they practice basketball drills with Kareem Abdul-Jabbar. It's all fun and games — especially for Kareem Abdul-Jabbar, who can't stop laughing at how bad some of the men are. But then they learn the second part of their date — a game in front of a packed house! 
This is good news for DeMario, who was dunking throughout the drill, and Will, who played basketball at Ithaca College. As for some of the other guys? Well, let's just say there were plenty shots of the crowd booing.
Overall the game is pretty amusing, but things don't really heat up until after the men hit the locker room. A girl named Lexi approaches Rachel inside the gym and tells her that one of the contestants is her boyfriend of seven months. Who is the two-timing guy? None other than DeMario!
Lexi drops some pretty crazy bombshells about DeMario — like the fact that he still has the keys to her apartment and that he stopped texting her three days before After the Final Rose. Wanting to get to the bottom of it, Rachel decides to bring DeMario out. And what does DeMario say when he spots his ex? "Ooh ... who's this?"
Yes, that actually happened and it was beautiful to watch. DeMario proceeds to bury himself deeper into this hole by calling Lexi a "psycho" and backtracking on the last time he was with her. It's a chaotic couple minutes of the three of them talking over each other, but Lexi swears on her father's grave and the kittens sleeping in her house that she's telling the truth.
After Rachel reads a recent text message DeMario sent Lexi — and he admits to having "sexual intercourse" with her — Rachel sends DeMario packing. "Get the fuck out," she tells him.
It's a pretty emotional moment for Rachel, but she handles herself well. Surprisingly, the remaining nine guys break out all the stops to comfort her and turn her day around. By the end of the date Rachel is smiling again and gives her rose to Josiah for showing off his protective side.
The return of DeMario
Rachel told DeMario to get lost, but it wouldn't be The Bachelorette if everyone left peacefully. Demario shows up at the mansion gates to try to explain himself one last time. Rachel decides to hear him out and heads down to meet him. Meanwhile, the men find out what's going on and decide to "step up" to get DeMario out. Of course, the episode ends before the confrontation. 
Mic has ongoing Bachelorette coverage. Check out the main Bachelorette hub here.