4th Circuit blocks Trump's travel ban once again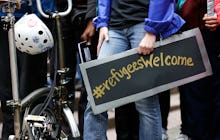 A Richmond-based federal appeals court once again blocked the enforcement of President Donald Trump's travel ban, saying the executive order "drips with religious intolerance, animus and discrimination."
This is just the latest of multiple legal challenges Trump has lost to his travel ban, which seeks to halt immigration from six Muslim-majority countries, as well as block the admittance of refugees from across the globe.
Attorney General Jeff Sessions said in a statement Thursday evening that Department of Justice will appeal the decision to the Supreme Court.
"This Department of Justice will continue to vigorously defend the power and duty of the Executive Branch to protect the people of this country from danger, and will seek review of this case in the United States Supreme Court," Sessions said in the statement.
The American Civil Liberties Union, which has helped fight against the travel ban, immediately declared victory on Twitter.
"President Trump's Muslim ban violates the Constitution, as this decision strongly reaffirms," Omar Jadwat, director of the ACLU's Immigrants' Rights Project, said in a statement. "The Constitution's prohibition on actions disfavoring or condemning any religion is a fundamental protection for all of us, and we can all be glad that the court today rejected the government's request to set that principle aside."
A three-judge panel on the 9th Circuit Court of Appeals also heard an appeal of Trump's travel ban earlier this month. A decision has not yet been released in that appeal.
May 25, 2017, 5:40 p.m. Eastern: This article has been updated