Taiwan just legalized same-sex marriage. But what does it mean for China?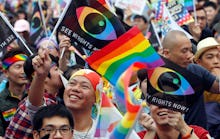 On Wednesday, Taiwan's highest court ruled in support of same-sex marriage, opening the door for marriage equality in the island nation. The news was heralded as a victory for LGBTQ rights for East Asia — but what does a ruling in support of same-sex marriage in Taiwan mean for LGBTQ rights in China, which still sees Taiwan as a Chinese province?
According to Stephen Peters, national press secretary for the Human Rights Campaign, the ruling in Taiwan will likely "have a major galvanizing impact on LGBTQ activists throughout Asia," especially in East and Southern Asia, Peters said.
With Wednesday's ruling, Taiwan is poised to become the first country in Asia to legalize same-sex marriage. Peters said that, according to HRC's global team, the ruling will likely get "high visibility and coverage" in Chinese speaking countries, including in mainland China.
According to Peters, the HRC team is optimistic that Taiwan's ruling will inspire LGBTQ activists across East Asia to "to prod their own governments and legal systems" in support of same-sex marriage. 
But, as Reuters reported on Thursday, while the ruling in Taiwan could do much to bolster support for same-sex marriage in China, there is still "deep-rooted opposition" to marriage equality in "some quarters."
Homosexuality isn't illegal in China, but it was listed as a mental disorder until 2001. As Reuters reported, there are a "handful" of out gay celebrities in China but no out gay politicians — and the country's mainstream state media "either ignored the decision by Taiwan's constitutional court, or focused on the island's few protesters against it."
Gay rights activist Li Tingting told Reuters that "the problem is society is too conservative ... many people have never had any contact with anyone gay."
Others were more optimistic, however, and there were some signs that the news from Taiwan was starting a dialogue in China. While Chinese-language state media may have largely ignored the historic decision in Taiwan, Reuters reports that the ruling garnered millions of supportive comments on Chinese social media network Weibo.
And Wei Xiaogang of the Beijing Gender Health Education Institute told Reuters that he thought the same-sex marriage decision in Taiwan could start wave of change that would push China towards equality. 
"It raises the visibility of equal marriage in China, and if more places in Asia approve this, China will feel like it won't want to be left behind," Wei said.