'Survivor' Season 35 Spoilers: Alum Hannah Shapiro breaks down new cast and theme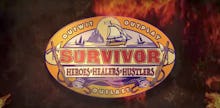 Hannah Shapiro was a runner-up on Survivor season 33: Millennials vs. Gen X. You can follow Hannah on Twitter @HannahLilNessen. 
The Survivor 34: Game Changers finale wrapped up last night and "criminal" cop Sarah Lacina was crowned the most game-changing of all the game changers. If you're sick of hearing why every move on Survivor is "game changing," then I have good news for you: The Game Changers theme has been put to bed in the Survivor history books. A new theme is about to step into the spotlight: Heroes vs. Healers vs. Hustlers.
Let's be frank here: Heroes vs. Healers vs. Hustlers is a real goofy theme — like next-level silliness. But you also have to remember that a Survivor theme just serves the purpose of pulling in fans. It's the cast that determine whether the season soars or flops.
What a viewer wants from a Survivor player varies. Some fans tune in to see big moves, while others want emotional growth narratives. For me, it's all about good narration. I will always root for a contestant who can tell the story in a unique way. Having players with the ability to tell a story is far more important to me than any initial theme. And there certainly seems to be some interesting new faces coming out of the promo that was released Wednesday.
We have all summer to dive into the cast, but let's take a look at a player from each of the season 35 tribes.
Heroes: Ben
Ben is a marine who talks in a thick southern accent, is covered in tattoos, wears a tremendously stylish hat and speaks to "honor, courage and commitment." He's the sort of American dude I sometimes only believe exists in comic books and, well, on Survivor. I dig it.
Healers: Desi
Desi is a physical therapist who is ready to prove her toughness, intelligence and strength. Go strong lady! Also, I mean, she's just so beautiful. Maybe her beauty comes from her confidence or maybe it's her musceled arms and perfect skin. I don't know, but either way she makes me want to go to the gym and then buy a bright yellow tank.
Hustlers: Ryan
Ryan is exactly the kind of player I was just talking about loving. In the short promo he proves himself to be a narrator with a distinct voice and the ability to self deprecate. Ryan is a bellhop who says things like "I love turtlenecks. I don't drink and I don't have a girlfriend yet. Come on, who'll align with me?" I will! I volunteer to be your ally, Ryan!
This snippet of characters gives me hope for a good season, regardless of if the theme itself finds success.
This is all not to say I won't give the theme a fighting chance. I'm only skeptical because Heroes Vs. Healers Vs. Hustlers doesn't exactly spark any interesting conversation or change up the game; it just sounds really chuckle-worthy.
But at the same time, I remember stepping onto the mat on my season and seeing Millennials vs. Gen X. My first thought was, "Oh boy, this is a bit 'hip' in a slightly off way." But I ended up finding quite a bit of value in the theme. I remember being on a beach with David Wright, someone both similar to me but also from "the other generation", thinking: "Ah, I get the theme thing now." It started an interesting conversation about similarities, paths and generational differences. I regretted starting off with the judgment I did.
So, let's see if we can hustle our way into a heroically good season and heal the world.
Mic has ongoing Survivor coverage. Check out our main Survivor hub here.