Printed wedding invitations are an obsolete relic that needs to die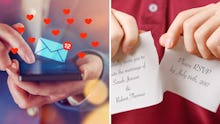 A month before a good friend's wedding, I asked her on Gchat, "Hey! How's the wedding planning going? When is the big day?"
We'd spoken multiple times about the festivities, but when I never received an invitation, I assumed she and her fiancé were trying to keep things small.
"OMG!" she replied. "You didn't get the invitation? I mailed it months ago!"
"Did you send an online version too?" I asked, frantically searching my inbox. "No," she replied. "Just paper." She admitted another friend had never received hers as well.
I don't know what happened to my friend's invitation. Maybe it was a mailing issue, maybe a postal worker dropped it, maybe it was accidentally returned to sender but never made it.
This is the problem with paper invites, and it's why we need to stop relying on them for good. Paper invites are expensive, annoying tree-killers that inevitably end up in the recipient's garbage. 
The delivery (or lack thereof) could also have been a problem on my end. Like many people these days, I pay all my bills online, my friends and I post Instagrams instead of sending postcards and no one on Tinder is sending me physical love letters. I live and die by Amazon Prime, but those packages are all delivered straight to my door. I check my mailbox maybe once per week.
When I do, I find it shoved to the brim with trash: coupons, catalogs from previous residents and flyers from pizza shops I'll never order from. I make every attempt to sift through and spot the rare important letter, but to be honest, I'm sure things have gotten lost or inadvertently thrown away.
But recently I've reached the point in life where a sizable number of my friends are getting married. I will be attending five weddings this year alone and I can only imagine how many more in the years to come. The onslaught of paper has been overwhelming.
Despite living in an increasingly digitized world, too many couples continue to cling to the outdated notion that printed correspondence is somehow more "meaningful" or "formal" than sending information digitally.
They send out stacks of thick cards with pockets full of smaller cards asking you to RSVP to engagement parties, housewarming parties, bridal showers, bachelorette weekends and the wedding itself. It's overwhelming and even more difficult to keep track of.
The cost adds up
And those cards don't come cheap. The entire wedding industrial complex is bent on getting couples to spend as much money as possible on meaningless junk, and paper invites are ground zero for this type of warped pressure. 
One hundred letter-pressed invitations can run over $1,600 on the low end; engraved invitations start at $2,000 for 100 people. If you want to hire a fancy calligrapher to write your guests' addresses in illegible script, that can also tack on a few hundred dollars. 
But this whole charade of spending hundreds if not thousands of dollars to have wedding correspondence printed, posted and delivered is a waste of time for couples whose guests would, for the most part, be just as happy receiving a Paperless Post at a fraction of the price. 
Sure, there are some people who like to keep hard copies of wedding invites on their mantel or stick something to their fridge. To this, I say, send a PDF.
I've made my views on paper wedding invitations known on Facebook. I've frequently gotten the response that if guests "can't be bothered" to send in a paper RSVP or handle paper correspondence for all of a couple's wedding-related events, then they don't "deserve" to come. 
This is absurd. No couple should purposefully inconvenience their guests in order to make them prove themselves. If anything, a host should aspire to make the process as seamless as possible for all involved.
Some guests are fighting back after becoming so overwhelmed by paper over the years, taking a hardline stance and refusing to even engage with paper RSVPS.
When I raised this topic on Facebook, one friend responded, "I hate paper wedding invites. I know I come off as rude every time I don't respond to one, but the fact of the matter is I don't respond to anything via paper. This may reflect my early teen thoughts on marriage, but just because it's on paper doesn't make it any more or less official that I'm going. If I tell you I'm going, I'm going. That's all you need to know."   
Another friend said she would grudgingly RSVP via paper if she had to, but she has completely stopped buying wedding gifts, instead choosing to send couples cash via Venmo.
To my relief, a growing group of couples are eschewing paper.
The end of the traditional invitation
Nisha Chittal, a digital strategist in New York, handled all of her wedding correspondence online. "I did online RSVPs only. Squarespace, hooked up to a Google spreadsheet," she said. "I hate mailing in RSVP cards and didn't want to deal with them or make my guests deal with them. I did mail paper invites, but it just directed people to our website."
"A few people on my husband's side called his parents and gave their RSVP over the phone rather than using the Squarespace form, but that didn't bother us," Chittal said. 
"We did all digital. Paperless Post, wedding website, Google form RSVPs," said another bride. "It was life changing and we saved so much money. Guests do not care and those who do aren't worth your time." 
Sarit Horwitz, a rabbi also based in New York, created her own digital invitation through Microsoft publisher and sent it out as a photo embedded in an email. "We put a link to a Google form underneath that for people to fill out indicating if they'd be there or not. Collecting the RSVPs was so freakin' easy!" she said.  
Others such as Alisa Richter Sheridan, a public relations executive in New York, used Facebook Groups to coordinate with guests. Several bridesmaids in one woman's wedding said that their friend had coordinated with them solely through group chat and shared Pinterest boards. 
Taylor Loren, a marketing strategist in Vancouver, emailed her invites out and created a newsletter for her wedding. "Feedback so far is great," she said. "No one thinks it's weird to not have paper invites, and they all laughed over the 'best email ever.'"
"Most paper invites I get now are super embellished but just tell you to go to a wedding website to get more info and RSVP there. If you're already making people go online, why not just send it online to start with?" Taylor said.
In lieu of a paper save-the-date, Nelson Charles Dellis, a four-time USA Memory Champion based in Miami, and his wife sent out a Vimeo link to a video he created. 
Rheanne Wirkkala and Ian Duncan of Silver Spring, Maryland, set up a separate Gmail account for their wedding and "did it all on the internet."
"We didn't do paper anything," Wirkkala said. Once the invites were emailed they directed people to follow a Tumblr to keep up with all relevant wedding info and even crowd sourced their wedding playlist via Spotify.
Others, like Rex Sorgatz and his wife Michelle, also skipped the paper invites and took RSVPs online via their SEO-friendly website, WhatTimeIsRexAndMichellesWedding.com.
Why use paper?
So if paper invites are expensive, cumbersome, and a burden on those both sending and receiving them, why do so many couples cling to this antiquated form of getting the word out?
Most people say it's because of "tradition" or because they think digital invites are tacky. When I hear this I try to remain calm and remind myself that this is the wedding industrial complex speaking. 
First of all, this is 2017. There is nothing tacky about a beautifully designed Paperless Post invitation. I'm sure people in ancient England thought paper invitations were tacky when carrier pigeons were going by the wayside, but the world evolves and one man's class is another man's trash.
"Nothing brings out people's opinions more than weddings," Chittal, the digital strategist, said. "One thing I learned while wedding planning was that you shouldn't make decisions based on the 'IT'S TACKY' wedding police. They are real and they are out there. There will always be someone who thinks everything is 'tacky.'"
Wedding magazines, consultants and society want you to believe that the more money you spend on something, or the more the gilded script on your invite is, the more meaning it has. 
These are the same forces that have driven up the average cost of a wedding in the United States to over $35,000 nationally and over $75,000 in New York City. They want you to equate price with sentimental value and smart couples should fight these efforts at every turn. 
That said, paper invites can serve a purpose under certain circumstances. Most people I spoke with who did choose to go the paper route went that way under pressure from their parents. There was a worry that older relatives wouldn't be savvy enough to figure out a digital RSVP.
Miriam Rosenhaus, a designer based in Brooklyn, devised a compromise. Her husband and she gave guests the option to receive either digital or paper invites. "It made the grandparents happy but also meant our friends could just click a link to add to their calendar," she said. Some other couples have resorted to printing out small batches of invitations to deliver more as a keepsake than anything else.
When New York-based journalist Conz Preti got engaged last year, she assumed that she would just do email invitations. "I have several WhatsApp groups with friends and I asked them to confirm their emails so I could send the invite. They were all appalled," she said. "So, we bought paper invites."
Some paper invitations are so customized and elaborate they're almost more art than invite. Chris Petescia and his wife Beth of Brooklyn are both Star Wars enthusiasts, and their highly customized, well designed paper invites would be difficult to replicate online.  
Some of my peers say that they also like receiving paper invitations because they serve as a good visual reminder. As a forgetful person myself, I can sort of understand this. "In a world of endless updates on screens, paper cuts through the noise," one friend said.
Yet, to the majority of us, paper is just more garbage. In a Twitter poll Mic conducted on Tuesday, nearly 70% of users responded that wedding invitations go straight to the trash after they RSVP.
As anyone who has planned a wedding knows, you can never please everyone. Ultimately, it's up to the couple to decide who, what, where, when, and how their big day plays out. 
So to those newly engaged, before you start stressing over font colors, envelope lining, and card stock, know that no matter what you choose, your big day won't be any less meaningful. Your good friends will be happy to be there no matter what, even if you did make them schlep to the post office.