Trump's son-in-law Jared Kushner is under FBI investigation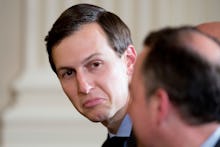 Donald Trump's son in law Jared Kushner is being investigated as part of the FBI inquiry into ties between the Trump campaign and Russia according to both NBC News and the Washington Post.
The Post cites sources who claim that Kushner is being investigated because of "extent and nature of his interactions with the Russians." After the election in late 2016, Kushner held meetings with top level Russian bankers and the Russian ambassador.
The Washington Post previously reported that, along with former national security adviser Michael Flynn and former Trump campaign chairman Paul Manafort, an unnamed senior White House official who is close to Trump is also under FBI scrutiny. At the time, the Post did not say who that official was. 
Both reports stress that Kushner is not the center of the investigation nor has he been accused of any wrongdoing.