Democrats want Kushner's security clearance suspended while FBI probes Trump-Russia ties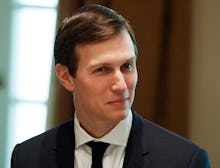 The Democratic National Committee called for Jared Kushner's security clearance to be suspended after news broke Thursday that President Donald Trump's son-in-law and senior adviser is being investigated by the FBI.
"The FBI's Russia investigation reached Trump's backyard, and now it's in his house," Adrienne Watson, the DNC's deputy communications director, said in a statement. "Kushner's security clearance should be suspended until the FBI's findings are complete."
Kushner, the Washington Post and NBC News reported Thursday, is not the center of the investigation and has not been accused of any wrongdoing.
But, according to sources, the "extent and nature of his interactions with the Russians" is being scrutinized because of meetings he had with a Russian ambassador and Russian banker in late 2016.
In April, it was revealed that Kushner had failed to disclose those meetings on his security clearance forms.
On May 19, the Post reported that a current White House official had become a "significant person of interest" in the FBI's investigation into ties between the Trump campaign and Russia but did not name the official. 
It showed that the probe "is reaching into the highest levels of government," according to the Post.